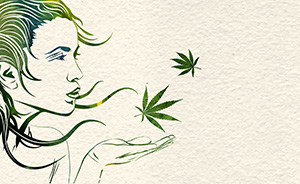 Investing in cannabis stocks is being called the "gold rush" of the 21st century. That's because legal marijuana sales in North America climbed to $6.7 billion in 2016.
As impressive as that sounds, sales are only expected to climb…
By 2021, legal marijuana sales in North America are expected to reach $20.2 billion. That's a sales increase of 201% in just four years.
While investing in marijuana stocks can be profitable, it's important to understand they are speculative investments right now.
That's because marijuana is still illegal under U.S. federal law.
However, with 28 states having some type of marijuana legalization law in place, medical legalization will become the norm.
Because of legalization efforts across the country and in Canada, these are the top cannabis stocks we are watching in 2017…
Top Cannabis Stocks to Watch in 2017
One of the top cannabis stocks to watch in 2017 is GW Pharmaceuticals Plc. (Nasdaq ADR: GWPH).
GW Pharmaceuticals develops and markets cannabis therapies that can be obtained with a prescription.
GW operates three business units:
Commercial
Sativex Research and Development
Pipeline Research and Development
Sativex is an oromucosal spray used to treat pain. Sativex also could also eventually be used to treat pain from cancer and neuropathy.
It is currently in drug trials for these conditions.
Currently, GW Pharmaceuticals is developing a drug named Epidiolex for possible treatment of adult epilepsy, schizophrenia, Dravet syndrome (DS), Type 2 diabetes, and Lennox-Gastaut syndrome (LGS).
Data for Epidiolex will be submitted to the FDA for review in hopes that the drug will be approved for launch in the United States.
The second marijuana stock to watch in 2016 is Scotts Miracle-Gro Co. (NYSE: SMG). Scotts has been in business since 1868 and is known for its lawn-care products.
However, most investors are surprised when they learn CEO James Hagedorn is heavily investing in the marijuana industry…
Must Read: Former Google Exec Quits Dream Job to Launch Marijuana Empire
Scotts invested a 75% stake in hydroponics equipment company Gavita International in July 2016. And according to Bloomberg, Scott's hydroponics sector generates roughly $250 million in revenue annually.
In August 2016, Scotts also reportedly paid $40 million for Botaincare, a marijuana plant nutrient company and hydroponic product provider.
The SMG stock price has climbed 46.15% in the last 12 months, significantly outperforming the Dow Jones Industrial Average. In comparison, the Dow climbed just 23.87%.
And the final cannabis stock to watch in 2017 has climbed more than 77% in the last 12 months…