(Kitco News) – The feature in the marketplace this week is rallying world stock markets, led by U.S. stock indexes that again hit record highs Wednesday. Asian and European stock indexes were mostly higher Thursday, with U.S. stock indexes also pointed toward firmer openings when the New York day session begins.
The U.S. Dow Jones Industrial Average pushed above 20,000 for the first time ever Wednesday, which is likely to garner the attention of the general public and could invite even more near-term demand for stock shares.
Most Asian markets are closed Friday for a holiday, with China also closed most of next week for its lunar new year holiday.
Gold prices are again under pressure Thursday morning, amid the world stock market rallies that highlight the "risk-on" trader and investor mentality that is presently pervasive in the world marketplace.
World bond market yields are on the rise again this week. Ideas of rising world inflation amid better economic growth in the industrialized countries are driving government bond yields up.
In overnight news, the U.K. economy had a fourth-quarter gross domestic product increase of 0.6% from the third quarter and was up 2.4%, year-on-year. The U.K. economy continued to perform surprisingly well in the aftermath of the June Brexit vote.
The U.S. dollar index is firmer Thursday morning, on a corrective bounce after hitting a six-week low Wednesday. The recent selling pressure has produced technical clues the dollar index has put in a near-term market top.
The other key "outside market" on Thursday sees Nymex crude oil prices trading slightly higher despite a bearish weekly U.S. oil inventories report on Wednesday that showed a rise in stockpiles.
U.S. economic data due for release Thursday includes the weekly jobless claims report, the Chicago Fed national activity index, leading economic indicators, the U.S. flash services PMI, new residential home sales, and the Kansas City Fed manufacturing survey.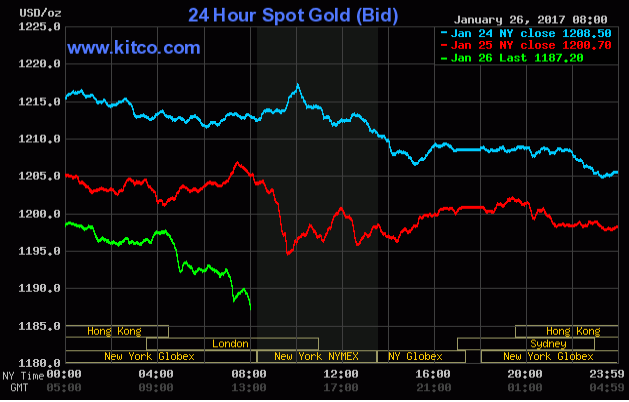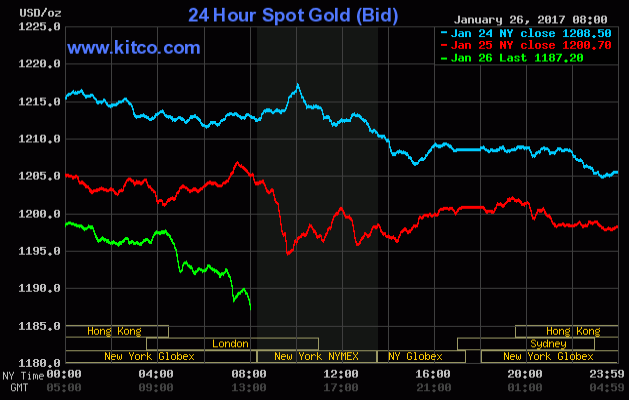 By Jim Wyckoff, contributing to Kitco News; jwyckoff@kitco.com
Follow Jim Wyckoff @jimwyckoff for breaking market news.