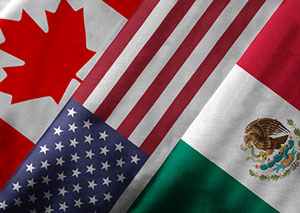 On Monday (Jan. 23), President Donald Trump got right to work fulfilling one of his trade-related campaign promises: He scrapped the Trans-Pacific Partnership (TPP).
Up next on the proverbial chopping block: the North American Free Trade Agreement (NAFTA).
There are several routes the new president could take with this 22-year-old trade deal. He may not kill it completely.
Regardless, President Trump renegotiating NAFTA will have a lasting impact on the U.S. economy and, eventually, on your wallet as well.
But first...
A Brief History of NAFTA and Why Trump Is So Focused on It
Prior to NAFTA, America and Canada had a bilateral free trade agreement in place called the Canada-U.S. Free Trade Agreement, enacted in 1989.
The trade agreement was replaced with what we now know as NAFTA in 1994 to include Mexico.
"The goal for all three countries was the integration of Mexico with the highly developed, high-wage economies of the United States and Canada," stated a Council on Foreign Relations report on Jan. 24.
The act was signed into law by former president Bill Clinton in 1993 and took effect on Jan. 1, 1994 - creating a trilateral trade bloc.
But President Trump isn't keen on including our southern neighbor during his tenure.
In fact, while on the campaign trail, he vowed to completely restructure the "worst trade deal in history," referring to NAFTA.
"I'm going tell our NAFTA partners that I intend to immediately renegotiate the terms of that agreement to get a better deal for our workers. And I don't mean just a little bit better, I mean a lot better," President Trump told an eager crowd of supporters at the Alumnisource Conference on June 28, 2016.
"If they do not agree, then I will submit notice that America intends to withdraw from the deal," he warned.
It seems Trump's intentions, now that he's president, remain the same.
If the U.S. pulls out of NAFTA, or kicks Mexico out of the deal, it would hit the southern country the hardest, and in a mostly negative way - especially when it comes to the import/export process involved with the United States...
"A deal between Canada and the U.S. [only] would be a huge blow to Mexico. It would also present major challenges for U.S. companies that ship supplies in and out," CNN reported on Jan. 24.
This pressure on American corporations as a result of Mexico's NAFTA omission could handily trickle down to consumers. Here's how...
How President Trump Renegotiating NAFTA Will Affect You
Withdrawing from NAFTA is completely within the scope of Trump's ability as president. According to Article 2205 of the original trade agreement, one of the three countries "may withdraw from [it] six months after [the country] provides written notice of withdrawal to the other Parties."
Once the notice is provided by the United States, Canada and Mexico could still resume trading bilaterally.
Meanwhile, U.S. consumers could potentially suffer thanks to increased tariffs on American goods coming from both Canada and Mexico.
"The withdrawal would lead to much higher prices for American consumers, and experts don't expect eliminating NAFTA to bring back jobs," CNN reported on Jan. 24.
For example, U.S. companies like alcoholic beverage-maker Constellation Brands Inc. (NYSE: STZ) would be forced to raise the prices of their Mexican-made spirits. "Seventy percent of Constellation's earnings come from importing its Mexican beer brands to the U.S.," Fortune reported on Jan. 23. "The higher tariffs could make those beers more costly for consumers, lowering demand."
President Trump has a second negotiation option, however...
He could go with "restructuring NAFTA" in order for the deal to better benefit the United States.
While this alternative route sounds good, it still exposes the public to significant financial risk...
Crafting up a new deal would require both Mexico and Canada to agree with whatever changes Trump's admin proposes.
Trending Now: What to Buy, What to Sell, and How to Protect Your Money in 2017
While Canadian Prime Minister Justin Trudeau told CNN on Nov. 10 that he's willing to renegotiate the deal, Mexico is not on board...
"We are not going to accept just any negotiation," Mexican Foreign Secretary Luis Videgaray said to The Televisa Network on Jan. 25.
Other Mexican politicians are calling for Mexico's outright withdrawal from NAFTA before the U.S. could make that move first...
"If we're going to go for something less than what we have, it makes no sense to stay," Ildefonso Guajardo, Mexico's economy secretary, explained to CNN on Tuesday (Jan. 24).
And just today, Mexican President Enrique Peña Nieto canceled an upcoming meeting with President Trump that had been set for next week after renewed tensions over Trump's plan to build a wall on the border.
"This morning we have informed the White House that I will not attend the meeting scheduled for next Tuesday with the POTUS," Peña Nieto tweeted.
Follow Money Morning on Twitter @moneymorning or Facebook.
Up Next for You...
Yes, President Trump's influx of new policies will affect you financially. The best approach to qualm your fiscal concerns is to prepare...
And Money Morning Chief Investment Strategist Keith Fitz-Gerald -- a seasoned market analyst with over 30 years of experience helping investors spot emerging global trends - wants to show you how to get ready for financial fluctuations.
Fitz-Gerald has created a two-part guide to navigating the markets in 2017 -- so you won't get left behind.