It's been a rough week for gold bulls everywhere. As of 8:50 a.m., gold prices today (Friday, Jan. 27) are down 0.6% to $1,186, marking their fourth straight day of losses.
Just as the price of gold was bragging about a robust rally, there were forces working in the background to counterbalance its recent strong advance.
The main force was, of course, the Dow Jones Industrial Average hitting 20,000.
That's basically all it took to drag the gold price lower. The precious metal's unrelenting strength, which lasted an entire month, was due for a breather.
In my view, that's exactly what we're getting now. And on a technical basis, I don't think it has much lower to go.
I'll explain to you how I came to that conclusion, but first a quick look at this past week's gold price action...
Why Gold Prices Today Are Down for a Fourth Straight Session
The price of gold ended the previous trading week on Friday, Jan. 20, with a strong reversal. It opened at $1,200 and gained handsomely over the rest of the day to close 0.8% higher at $1,210.
On Monday, Jan. 24, gold prices opened at $1,214 and traded mostly higher throughout the day. They settled 0.3% higher at $1,218 an ounce.
Don't Miss: Your Free Guide to Profiting from Gold in 2017
Tuesday started what was to be a challenging week on balance. As the Dow Jones Industrial Average inched ever closer to the 20,000 level, investors were lured toward stocks and away from precious metals like gold. This dragged the gold price down 0.4% to close at $1,208.
Even the weakening dollar from Monday through Wednesday couldn't lift gold prices against the rising Dow Jones...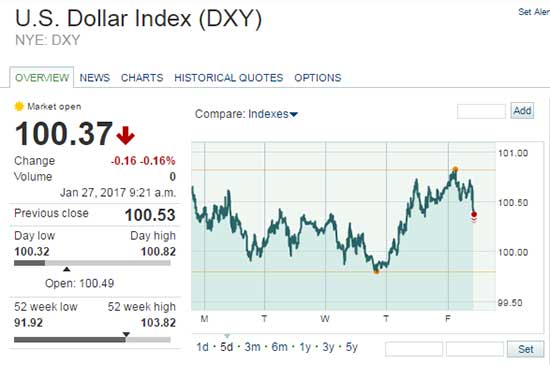 Despite the U.S. Dollar Index (DXY) weakening through Wednesday, gold prices remained challenged by stocks. The Dow Jones jumped above the psychologically significant level of 20,000 just after the Wednesday open. By 10:00 a.m., the gold price had dipped below $1,200 to $1,195, but regained it by the close. It settled at $1,200 and logged a 0.7% loss on the day.
On Thursday, Jan. 26, the Dow Jones brought continuing headwinds to gold prices. As the Dow powered higher to spend much of the day above 20,100, gold fell 1% to close at $1,188.
And gold prices today are continuing the losing streak. They're down 0.6% to $1,186 and are on track for a weekly loss of 2%.
Despite the stock market's hot streak, the price of gold is poised for a bull run this year. Here's my latest price target...
Gold Prices Today Fall, but This Indicator Points to Huge Gains in 2017
[mmpazkzone name="in-story" network="9794" site="307044" id="137008" type="4"]
I see the price of gold running 18% higher to $1,400 an ounce by the end of the year.
And there's one technical indicator the gold price just crossed that indicates more gains in the months ahead... gold's 50-day moving average.
I pointed out to you last week that gold's recent rally had pulled it up above its 50-day moving average thanks to gold's impressive gains from late December through this week.
But the Dow Jones' push above the 20,000 milestone this past week, along with rallying world markets, was enough to make gold prices digest their recent gains...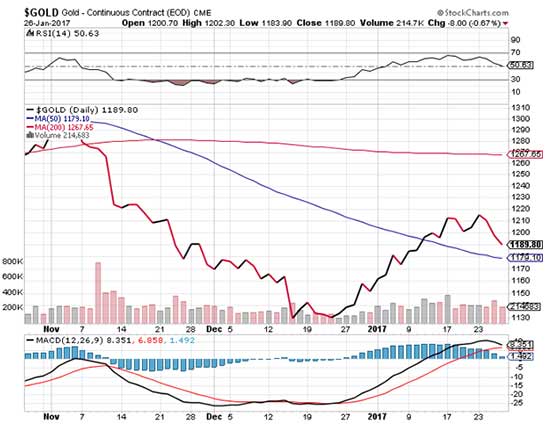 From a technical perspective, it wouldn't surprise me to see the gold price weaken a little more.  Odds are it will reach down to "test" its 50-day moving average around $1,180, which is likely to now act as a support level.
At that point, the price of gold could consolidate a bit sideways. Then, it should resume its climb higher towards the 200-day moving average near $1,270.
Looking further out, higher inflation has been manifesting itself in major economies, including the United States, Europe, Japan, and China.
Germany's inflation doubled in December, and across the euro area it has grown at the fastest clip in four years. Meanwhile, the U.S. Consumer Price Index was up 2.1% last month - the most in over 30 months.
Couple that with President Donald Trump's promised tax cuts, shrinking business regulations, and massive infrastructure spending. All of these promise that gold prices are likely to be supported by rising inflationary expectations.
My gold price prediction is still for $1,280 in Q1 and a push towards $1,400 later in 2017.
Urgent: For only the third time in 20 years, a metal more rare and more exotic than gold is about to make stock market history. And it's poised to make early investors a lot of money. Get the full story.