(Kitco News) – Most European and Asian equity markets on Friday saw corrective pullbacks from recent gains that put many world stock indexes at or near multi-month, multi-year or record highs this week. U.S. stock indexes are pointed toward narrowly mixed openings when the New York day session begins.
Some Asian markets were closed, or closed early, Friday for a holiday. China markets are closed most of next week for the Lunar New Year holiday.
The marketplace continues fixated on the new U.S. president and his first full week in office. On Thursday, Trump singled out Mexico and admonished that country for not treating the U.S. fairly on trade matters. Many wonder what country will be next on President Trump's list to call out. Trump was especially critical of China in his campaign for president.
Gold prices are trading lower and hit a three-week low overnight as the safe-haven metal is set to have its first losing week of the new year. The recent rally in world stock markets is pulling away demand for gold amid the better risk appetite in world markets.
The U.S. dollar index is higher Friday morning, on a corrective bounce after hitting a six-week low Wednesday. The recent selling pressure has produced technical clues the dollar index has put in a near-term market top.
The other key "outside market" on  Friday sees Nymex crude oil prices trading lower on ideas of rising U.S. oil-rig counts. The Nymex crude oil market sees strong overhead resistance layers just above present prices.
U.S. President Donald Trump meets U.K. Prime Minister Theresa May in Washington today. The marketplace will be watching this meeting for any Brexit-related comments that could come from May.
U.S. economic data due for release Friday includes durable goods orders, the fourth-quarter GDP report, and the University of Michigan consumer sentiment survey.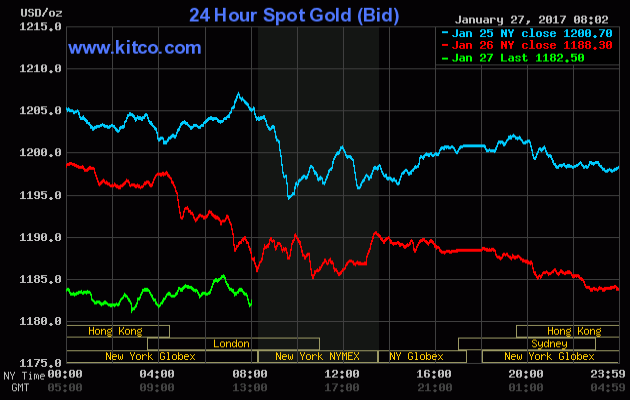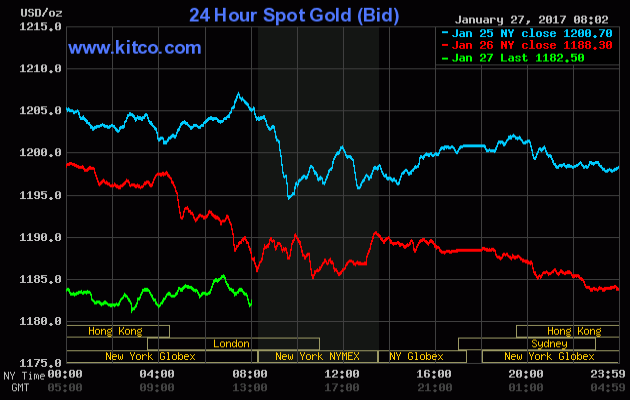 By Jim Wyckoff, contributing to Kitco News; jwyckoff@kitco.com
Follow Jim Wyckoff @jimwyckoff for breaking market news.