Exxon earnings come out tomorrow (Tuesday), but while observers are anxiously awaiting the report, savvy investors should avoid the stock no matter what the report says.
Exxon Mobil Corp. (NYSE: XOM) currently trades at $84.86 and has fallen 6% in 2017.
Despite its struggles in 2017, Exxon stock has been a trendy pick since Donald Trump won the presidency.
XOM stock shot up 2.4% on Dec. 13, the day former Exxon CEO Rex Tillerson was announced as Trump's nominee for secretary of state. And Forbes lists XOM as a stock that could double under President Trump.
But that does not make XOM a stock to buy ahead of earnings. Despite the recent hype, Exxon's post-election surge hasn't been enough for the stock to keep up with the Dow.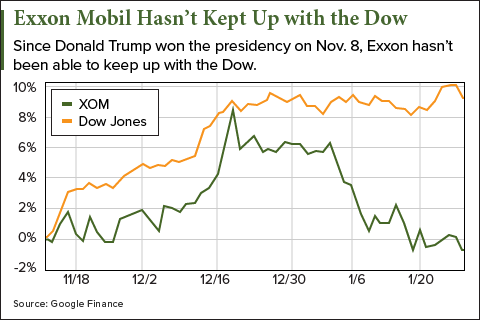 And there are some bigger reasons investors should avoid Exxon Mobil stock in 2017, even if its earnings report gives the stock another jolt of optimism.
Here's why Exxon is a bad play this year and why a different oil stock will actually make you money instead...
Why Exxon Earnings Don't Matter Right Now
Exxon's earnings report should bring good news for the stock, but don't read too much into it.
First, Exxon has beaten earnings estimates in four of the last five quarters, but the stock is down 9% since the start of 2015.
Second, any good news on the earnings report will be short-lived. According to Dr. Kent Moors, Money Morning's Global Energy Strategist, all Big Oil stocks should be avoided in 2017.
"Things will get even worse for Big Oil in 2017," he said.
That's because the oil majors are bogged down by huge and expensive "megaprojects," according to Moors.
Trending: There Are Big Changes and Big Profits Coming to the Oil Sector in 2017
For example, the Exxon earnings report is expected to detail the company's Jan. 17 purchase of $5.6 billion worth of shale oil sites in the Permian Basin. The deal will double Exxon's holdings in the Permian Basin and is the company's biggest purchase since 2010.
But this "megaproject" is exactly why the company is a bad stock to own in 2017.
You see, American shale oil producers have been reinvigorated by rising oil prices.
According to the EIA, 52% of American oil production is through shale oil, and U.S. oil production has increased 2.2% so far this year.
"Everyone is looking at U.S. shale producers now," explains Moors.
But Exxon's massive purchase is just playing catch-up with the more nimble companies already producing shale oil. And smaller American companies aren't bogged down with other megaprojects all over the world.
That's why investors should look for companies already taking advantage of the shale oil boom. And we have one that gained 34% in 2016 and is heading even higher in 2017...
This Oil Stock Will Beat XOM This Year