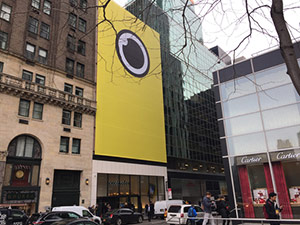 Snapchat stock will trade on the New York Stock Exchange (NYSE), according to a new report from CNBC.
And because the Snapchat IPO could happen as early as March, investors have been asking us, "What is the Snapchat stock symbol?"
There isn't a Snapchat stock symbol right now. But "SNAP" is the most likely choice.
Now, the exchange choice adds more momentum to Snapchat being the most hyped IPO of 2017.  And because of the hype, we want to make sure investors are prepared when Snapchat stock hits the market.
Here's everything you need to know…
What Is Snapchat?
Snapchat is a messaging app used on smartphones. Snapchat users can send video and picture messages with animations and special filters.
But the most distinctive feature of Snapchat is vanishing messages. Users can decide to post their messages for up to 24 hours, but most messages disappear within a few seconds.
And these unique features have made Snapchat very popular among teens and millennials…
According to Bloomberg, 70% of people aged 18 to 24 years use Snapchat. The social media app is also attracting more users in the 25- to 34-year-old range.
In June 2013, only 6% of that age group used Snapchat. That number climbed to 40% by June 2016.
And the growing audience is causing Snapchat's revenue projections to skyrocket…
How Much Money Does Snapchat Make?
For 2016, Bloomberg projects Snapchat generated $367 million in revenue.
But that's not why investors are so anxious to own Snapchat stock…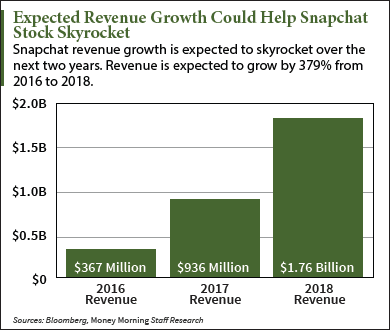 For 2017, Snapchat is expected to generate between $936 million in revenue. That could be an increase of 155% in just one year.
And revenue is projected to keep climbing…
For 2018, Snapchat is projected to report between $1.76 billion and $2 billion in revenue.
The revenue growth is impressive, but revenue growth alone isn't the only reason to own a stock.
Trending Story: Top IPOs to Watch in 2017
There are a lot of risks when investing in IPOs.
So on the day of the public offering, this is how you should play the Snapchat IPO…
Should I Buy Snapchat Stock in 2017?
According to Money Morning Chief Investment Strategist Keith Fitz-Gerald, Snapchat is way overvalued at $25 billion.
"The goal is to make any valuation they come up with seem as high as possible no matter how cooked up or absurd it is. The reason they do that is because that's how you create the illusion that a company is mature and credible when it comes to attracting desperately needed talent, business partners and – ta da – more funding," Fitz-Gerald said.
With projected revenue of nearly $1 billion for 2017, Snapchat could trade at 25 times its projected revenue.
That's way too pricey for value investors.
But even a lofty valuation won't deter some retail investors from investing in the Snapchat IPO. That's because some investors will have FOMO (fear of missing out) when Snapchat stock goes public.
And unfortunately, it's never retail investors who make the most money from an IPO…
Wealthy insiders and large institutions always make the most money from IPOs. Take the Twilio Inc. (NYSE: TWLO) IPO, for example. Shares of the tech company were offered to wealthy insiders for $15 per share before the public could invest.
Then on June 23, 2016, the IPO date, shares of TWLO opened at $23.99 per share.
That means wealthy investors made a profit of more than 59% in the first minutes of trading.
TWLO opened at $28.84 per share today (Jan. 31, 2017), which means those wealthy investors have netted staggering profits of 92.26%.
But some retail investors aren't so lucky…
Retail investors who bought TWLO stock when it traded at an all-time high of $70.96 on Sept. 28, 2016, have watched their TWLO shares drop over 59%.
"When you buy shares of a publicly traded company, you are paying what the market will bear and you risk everything. There isn't an investment banker on the planet who gives a damn about whether or not the investing public makes a dime on the IPO," Fitz-Gerald said.
That's why any investor still interested in the Snapchat IPO needs to think through their goals and their individual risk tolerance.
To help answer all of your Snapchat questions, we put together a guide that covers everything you need to know as the Snapchat IPO date approaches.
Follow Money Morning on Facebook and Twitter.