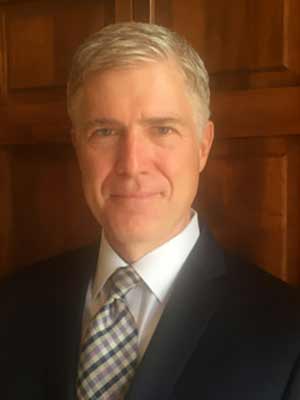 The question "who is Neil Gorsuch, Supreme Court nominee?" is destined to be on a lot of lips today (Tuesday), with the U.S. 10th Circuit Court of Appeals judge on the top of President Donald Trump's short list of picks.
President Trump is scheduled to announce his Supreme Court nominee tonight at 8 p.m. The president is seeking to fill the seat left vacant by Justice Antonin Scalia's death last year.
News reports say the president has narrowed the choice to either Judge Gorsuch or Judge Thomas Hardiman, who serves on the 3rd Circuit Court of Appeals.
The thinking among Washington's pundits is that Judge Gorsuch has the edge because he has far more in common with Justice Scalia, who was much loved by conservatives.
During the campaign, President Trump said he would "appoint judges very much in the mold of Justice Scalia."
This is where the case for Neil Gorsuch as Supreme Court nominee starts – and it explains why President Trump would select him…
Neil Gorsuch, Supreme Court Nominee, Is Nearly a Clone of Justice Scalia
One thing Justice Scalia was known for is his insistence on interpreting laws as they are written, as opposed to trying to discern the intent of the lawmakers. In the world of law, this is called textualism.
Judge Gorsuch praised – and endorsed – this trait shortly after Justice Scalia's death last year.
"Judges should strive, if humanly and so imperfectly, to apply the law as it is, focusing backward, not forward, and looking to text, structure, and history to decide what a reasonable reader at the time of the events in question would have understood the law to be," Gorsuch said in a speech to Case Western Reserve University's law school.
Don't Miss: Everything You Need to Know About Buying Gold & Silver
Justice Scalia was also a proponent of the related idea of "originalism," in which justices interpret laws according to the U.S. Constitution as it is written. So is Gorsuch.
Even their writing style is said to be similar. Legal experts say Judge Gorsuch's opinions, like Justice Scalia's, are precise, clear, and written with flair.
Judge Gorsuch also shares Justice Scalia's affable personality – something that could help defuse a potentially contentious Senate confirmation hearing. Senate Democrats vowed to block President Trump's nominee without even knowing who it would be.
And while Judge Gorsuch's resemblance to Justice Scalia is a major advantage, it's not the only one.
Almost every aspect of Judge Gorsuch's life suggests he was destined to be a Supreme Court justice…
Why Neil Gorsuch Is the Most Likely Supreme Court Nominee