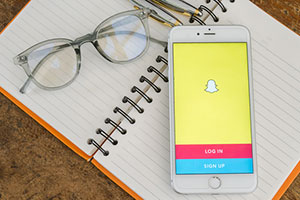 With the company filing for an IPO on the NYSE this week, anxious investors have been asking us, "How much is Snapchat worth?"
Snapchat's valuation has fluctuated between $25 billion and $40 billion. The company states that it wants to raise as much as $4 billion through the IPO.
When Snap Inc. stock goes public as soon as March, we could be looking at the largest public offering since the 2014 Alibaba Group Holding Ltd. (NYSE: BABA) debut, which raised $25 billion.
Here's what you need to know about Snapchat ahead of this massive IPO...
How Does Snapchat Work?
Snapchat, which has been renamed Snap Inc., is a technology company that relies almost entirely on a mobile application.
The popular photo and video-based app was created in 2011 and works on the concept of privacy and disappearing content. After someone views a photo or video, it will disappear from their feed.
Users can also manipulate some of the content, which makes interaction fun. For example, if you upload a photo of yourself, you can alter it to add captions, rainbows, or animal features to your face and body.
Get Our Best Wealth-Building Ideas: Money Morning's top 5 investment reports to grow your money like never before are right here - and they're absolutely free. Read more...
Snapchat's demographic is primarily millennials. Bloomberg reports that 70% of its users are between the ages of 18 and 24. However, the app is also gaining traction with 25- to 34-year-olds, with 41% of that age group now claiming to use the app.
How Does Snapchat Makes Money?
Snapchat has a unique opportunity to monetize its user base because it's more engaged on this platform than on other social media sites. According to Piper Jaffray, Snapchat has surpassed Instagram, Twitter, and Facebook as the most popular social media platform for teens.
Snapchat makes money through several different forms of advertising. Video ads make up the company's largest revenue stream. These videos are viewed alongside regular content, and this ad revenue was expected to reach $250 million in 2016. Full numbers have not yet been released.
The company also generated $102 million last year with its "Sponsored Lenses." These are ad space "snaps" that a company purchases with a unique concept. Users can insert themselves into the ad and then share it with their friends.
At the end of 2016, Snapchat launched its "Snapchat Spectacles" social media glasses, which sell for $129.99. These glasses allow the wearer to take video and wirelessly upload to the app.
So now that we know how the company makes money, how much is Snapchat worth?
How Much Is Snapchat Worth?
In early 2016, Snapchat was valued at $25 billion. This was about the time that a Snapchat IPO was gaining buzz. Other experts believe that this figure could reach as high as $40 billion by the time the company's stock debuts.
Why such a high value? The main reason is tremendous revenue growth.
In 2014, Bloomberg estimates that Snapchat's revenue was $3.1 million. By 2015, it had jumped 1,835% to $60 million.
If revenue estimates are correct for 2016, the company increased revenue another 511% to $367 million.
And the future growth numbers are even more incredible. Forecasts for 2017 revenue reach as high as $1 billion, and 2018 will double that figure to $2 billion.
Yes, Snapchat has value, but when looking at an IPO, value is sometimes subjective and often inflated...
The Most Recent Snapchat Developments Could Dent Valuation
Do companies attempt to inflate their values heading into an IPO? Considering the purpose of an IPO is to raise money, it would make sense that they would. And there are some recent allegations of Snapchat making moves to do just that.
In early January, a former Snapchat employee filed suit against the company alleging that it inflated some key growth metrics to boost its appeal as the Snapchat IPO approaches.
Former Facebook Inc. (Nasdaq: FB) employee Anthony Pompliano was hired by Snapchat briefly and charges it with two things. One, the company attempted to coerce him into sharing proprietary information about Facebook, which he refused. Two, it delivered inflated metrics to Alibaba Group, who was a potential investor.
The lawsuit is pending but casts doubt on some of Snapchat's visitor and revenue claims. Snapchat denies the allegations, of course.
Whether they're true or not, a Snapchat IPO might not be the best use of your time and investment dollars...
Should I Buy Snapchat Stock?