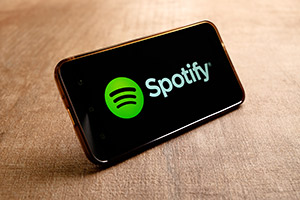 Spotify is the most popular streaming music service in the world. Over 40 million subscribers worldwide pay to stream songs by top artists like Drake, Justin Bieber, Kanye West, and Adele.
And in order to grow its subscription business, Spotify could go public in the second half of 2017, according to Business Insider.
That's why investors are asking us, "Should I buy Spotify stock?"
Right now, some investors are considering investing in Spotify because the company could be a takeover target.
Before we evaluate Spotify stock and the Spotify IPO, here's a look at who might try to acquire Spotify ahead of an initial public offering…
Who Will Buy Spotify?
Spotify has the most paid subscribers of any music-streaming platform. But it took Spotify roughly eight years to build its 40 billion paid user base. So instead of building a base of its own from scratch, a larger company could simply acquire Spotify.
And that appeared to be Google's plan in 2013…
In 2013, Alphabet Inc. (Nasdaq: GOOGL) planned to acquire Spotify for $4 billion to $5 billion, according to The Wall Street Journal. But the streaming music site reportedly wanted over $10 billion, and the deal never happened.
However, other companies could be willing to pay that price…
Apple Inc.'s (Nasdaq: AAPL) Apple Music service, which launched in June 2015, has over 20 million paying music subscribers. That is half of Spotify's paying customer totals.
New Opportunity: Plot your course to a 7-figure weed windfall with the top pot stocks from every ecosystem -growers, edibles, dispensaries, and more.
With one purchase, Apple could have over 60 million paying customers in its wheelhouse.
If Spotify still wants $10 billion, Apple would only need to spend 0.04% of its $246 billion cash hoard to acquire the company.
If Apple doesn't make a move on Spotify, Facebook Inc. (Nasdaq: FB) could be interested.
In 2011, Facebook and Spotify formed a partnership. The partnership allowed FB users to play songs on Spotify through the social media site.
Facebook users could also share what songs they were listening to on their timeline. Back in March 2016, Facebook also integrated Spotify with its Messenger app.
As of Q3 2016, Facebook had $26 billion in cash and cash equivalents.
And if the offer is big enough, Spotify stock could skyrocket…
Here's a recent example: Textron Inc. (NYSE: TXT) announced on Jan. 25 it was acquiring Arctic Cat Inc. (Nasdaq: ACAT) for $247 million in cash.
That sent the ACAT stock price skyrocketing from $13.09 per share on Jan. 24 to $18.55 on Jan. 25. That's a 41% climb in just one day.
However, there's no guarantee an acquisition will ever happen.
In fact, we have one big reason investors shouldn't bet on a Spotify acquisition…
Why Investing in Spotify Stock Is So Risky