(Kitco News) - Global stocks generally rebounded Wednesday after posting losses earlier this week. China markets remained closed for the Lunar New Year holiday.
U.S. stock indexes are pointed toward firmer openings when the U.S. day session begins.
Gold prices are trading modestly higher after scoring solid gains on Tuesday.
It's going to be a very busy data day for the U.S. markets Wednesday. The Federal Reserve's FOMC meeting that began Tuesday morning ends Wednesday afternoon with a statement. No change in U.S. interest rates or monetary policy is expected. However, the wording of today's FOMC statement will be closely scrutinized for clues regarding the future path of monetary policy.
Other U.S. economic data due for release Wednesday includes the weekly MBA mortgage applications survey, the ADP national employment report, the U.S. manufacturing PMI, construction spending, the ISM manufacturing report on business, the global manufacturing PMI, domestic auto industry sales, and the weekly DOE liquid energy stocks report.
In overnight news, the Euro zone January manufacturing purchasing managers index (PMI) came in at 55.2 versus 54.9 in December. The January number was just above market expectations. Any reading above 50.0 suggests growth in the sector.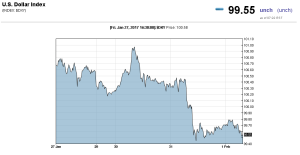 The U.S. dollar index is slightly higher in early U.S. trading Wednesday, after dropping to a six-week low on Tuesday. President Trump made comments Tuesday that suggested he wants to see a depreciating greenback on world currency markets.
The other key "outside market" on Wednesday sees Nymex crude oil prices trading firmer. After one-month of curtailing its collective crude oil output, the OPEC oil cartel has appeared to help stabilize world oil prices, which are trading between $50 and $55 a barrel in Nymex futures.
Traders are also starting to look just ahead to Friday's U.S. employment report for January from the Labor Department. The key non-farm payrolls number of the report is expected to come in at up 175,000.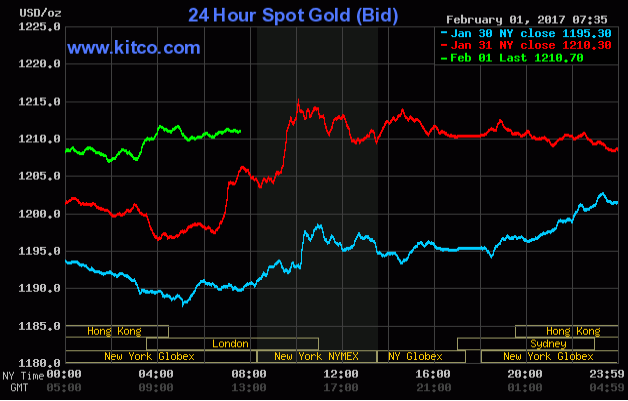 By Jim Wyckoff, contributing to Kitco News; jwyckoff@kitco.com
Follow Jim Wyckoff @jimwyckoff for breaking news.