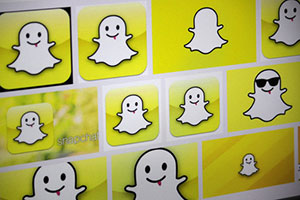 In an attempt to boost the Snapchat stock value before the IPO, Snap Inc. is aggressively trying to grow its revenue.
Snapchat reportedly wants $100 million to $200 million in ad-spending commitments from the following firms:
WPP Plc.
Omnicom Group Inc.
Publicis Groupe SA
Interpublic Group of Cos.
If Snapchat closes all the deals, the company could generate between $400 million and $800 million in revenue from just four advertisers in 2017.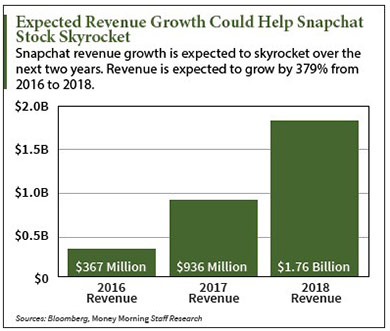 Snap was already projected to generate $936 million in revenue this year.
So signing all four deals could push revenue into the billions for 2018.
That's impressive, considering Snapchat was expected to generate a total of $367 million in revenue for 2016.
And because revenue is expected to skyrocket, the Snapchat IPO is the most hyped public offering of 2017.
Up Next: Should I Buy Snapchat Stock?
We know investors are anxiously awaiting the Snapchat IPO date.
That's why Money Morning has created a free guide with everything you need to know before the Snapchat IPO.
You'll learn:
How Snapchat works
How Snapchat makes money
How much Snapchat is worth
But most importantly, you'll learn how to play the Snapchat IPO from Money Morning Director of Tech and Venture Capital Research Michael A. Robinson.
You can find the Snapchat stock guide, right here.
Follow us on Twitter @moneymorning and like us on Facebook.