(Kitco News) – World stock markets were mostly weaker Thursday, on corrective pullbacks from recent gains that put many stock indexes at record, multi-year or multi-month highs. U.S. stock indexes are pointed toward weaker openings when the New York day session begins.
The marketplace is buzzing about a reportedly contentious conversation between U.S. President Donald Trump and Australian Prime Minister Malcom Turnbull, regarding refugees in Australia that were to be headed for the U.S. The uncertainty regarding the new U.S. president and his administration are being blamed by some for jittery world stock markets the past couple weeks.
Gold prices are solidly higher and hit a 2.5-month high Thursday amid the recent weakness in the U.S. dollar index and on some safe-haven demand. After traders and investors had a chance to mull over the FOMC statement from Wednesday afternoon, most are deeming the report as slightly dovish on U.S. monetary policy. That's bullish for the raw commodity sector, including the precious metals.
In overnight news, the Euro zone producer price index was reported up 0.7% in December and up 1.6%, year-on-year. Those numbers were a bit hotter than expected and are in line with notions of rising world inflationary pressures, albeit not problematic yet.
The Bank England is holding its regular monetary policy meeting Thursday. The BOE is expected to leave its monetary policy unchanged.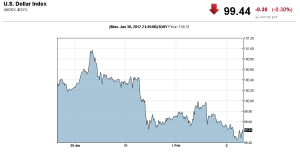 The U.S. dollar index is lower and hit a 2.5-month low in early U.S. trading Thursday. The dollar index is in a four-week-old downtrend on the daily bar chart and the greenback bears have momentum.
The other key "outside market" on Thursday sees Nymex crude oil prices trading firmer. After one-month of curtailing its collective crude oil output, the OPEC oil cartel has appeared to help stabilize world oil prices, which are trading between $50 and $55 a barrel in Nymex futures.
Traders are looking ahead to Friday's U.S. employment report for January from the Labor Department. The key non-farm payrolls number of the report is expected to come in at up 175,000. However, with a stronger ADP jobs report issued Wednesday, the more important Friday jobs number could come in stronger than the present forecasts.
U.S. economic data due for release Thursday includes the weekly jobless claims report, the Challenger job cuts report, the ISM New York report on business, and monthly chain store sales results.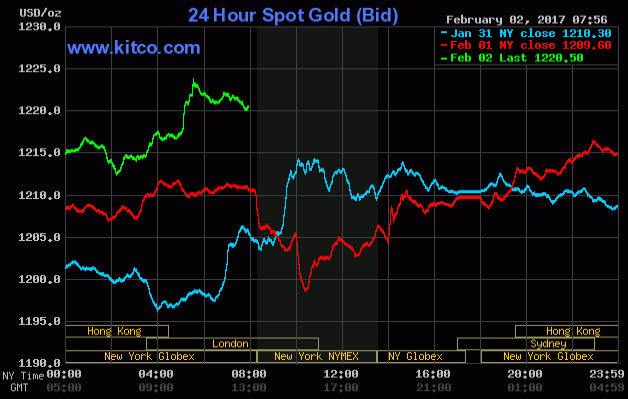 By Jim Wyckoff, contributing to Kitco News; jwyckoff@kitco.com
Follow Jim Wyckoff @jimwyckoff