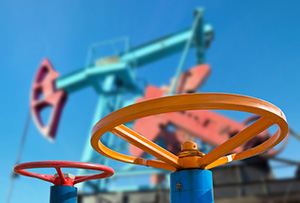 We've put together a list of oil stocks to buy in 2017 to help you profit from rising oil prices. These are picks that gained up to 49% during 2016 and are set to go even higher in 2017.
WTI crude oil prices hit a 10-year low of $35.73 a barrel in January last year. But after OPEC agreed to cut oil production, oil prices have been back on the rise.
The price of oil is now $53.68 a barrel; that's up 15% since the OPEC deal on Nov. 30.
And Dr. Kent Moors, Money Morning's Global Energy Strategist, says prices could rise another 20% in the first half of 2017.
As oil prices head higher, the best way to profit is to buy the best oil stocks. You can try your hand trading oil futures, but the market is complex and volatile. Passive investors rely on oil ETFs, but these are weighed down with bottom-dwelling stocks and fees that cut into your gains.
But instead of paying an ETF fee, buying a top oil company stock like one targeted on our list could bring you a 6.88% dividend yield.
Or a company that could see up to 85% revenue growth in 2017.
That's why buying the right oil company stocks is your best way to profit from oil in 2017. Before we get to our list of oil stocks to buy, here's why this year will be great for oil...
Expect 2017 to Be a Great Year for Oil
Moors expects oil prices will remain above $50 a barrel and push up to 20% higher in 2017. There are three big reasons why...
First, the members of OPEC and 11 other countries agreed to reduce their oil production in a historic agreement.
On Nov. 30, 2016, OPEC agreed to cut oil production for the first time since 2008. The deal announced a production cut of 32.5 million barrels per day this year.
Oil prices have jumped 16% since the cartel finalized the deal in November. The production cut officially began on Jan. 1, and OPEC has reported participating countries are in compliance.
That's important because Moors expects an oil price floor of $50 per barrel as long as the OPEC agreement is in place.
Trending Now: Forecast: There Are Big Changes and Big Profits Coming to the Oil Sector in 2017
Second, the demand for energy is rising throughout the world.
The EIA forecasts that demand for energy will climb 25% by 2040. The rising populations and economic development of both India and China and will drive energy growth over the coming decades.
As energy demand grows, sources of energy like oil will get more profitable.
And as global demand rises, oil will continue to be the dominant source of energy, even as renewable forms of energy like wind and solar enter the market. Exxon Mobil's 2017 Energy Outlook forecasts oil will continue to be world's primary source of energy through 2040.
Third, the new Trump administration is expected to be much more friendly to oil exploration and drilling than previous administrations.
President Trump campaigned on a policy of making "America energy independent." To do this, Trump proposed eliminating regulations on oil and gas production to make it easier, and cheaper, for oil companies to extract oil.
And so far he is following through. Last week (Jan. 24), President Trump signed an executive order that allowed the completion of the controversial Keystone XL and Dakota Access pipelines.
Don't Miss: Know Exactly What to Buy, What to Sell, and How to Protect Your Money in 2017
President Trump has also chosen officials favorable to the oil industry to run key parts of the federal government.
That includes Scott Pruitt to be in charge of the EPA. As the attorney general of Oklahoma, Pruitt made a name for himself by suing the EPA over its restrictions on oil production in his state. Putting Pruitt in charge of the EPA means less rigid enforcement of environmental restrictions on oil companies.
President Trump also nominated former Exxon Mobil CEO Rex Tillerson as the secretary of state, one of the most important jobs in the cabinet. And even though the secretary of state isn't in charge of domestic energy policy, having a former oil company executive in a top-level role will be a good thing for the oil industry.
And with the oil landscape changing in a more favorable direction, these oil stocks are set to make huge gains in 2017...
Our List of Oil Stocks to Buy in 2017