Despite the price of gold today (Friday, Feb. 3) falling 0.1% to $1,218 this morning, the metal is about to cap off a big weekly gain thanks to the recent craziness in the White House.
In the second week with Donald Trump in the oval office, there's been no shortage of political events bringing instability and volatility to the markets.
And this is likely just the beginning.
The new president has already signed no less than 19 executive orders, impacting many aspects of Americans' and non-Americans' lives.
Perhaps the most controversial is the temporary ban on people entering the United States from one of seven majority-Muslim nations. This led to large protests, scores of people unexpectedly stuck in foreign and U.S. airports, and the firing of the acting attorney general for defying the travel ban.
Layered on top this were executive orders to build the Mexican border wall, rebuild the military, and reorganize the National and Homeland Security Councils.
Don't Miss: This Is the Best Gold Stock to Buy Right Now
Fears associated with ripped up trade agreements and mounting currency wars have ramped up. These fears are establishing ideal conditions for gold prices as investors seek gold as a safe-haven shelter.
Topping things off, the U.S. Federal Reserve chose to keep interest rates unchanged. Its comments on the economic outlook lacked clarity, but it did highlight rising price pressures.
All of this helped push the gold price to a two-and-a-half-month high, with the near term still looking quite bullish.
Here's why gold prices are up this week. Then, we'll give you our gold price prediction for 2017, which indicates more gains ahead...
Why the Price of Gold Today Is Down from Its 11-Week High
The gold price spent Friday, Jan. 27, on a quiet note. It opened at $1,182 and gained slightly to close that week at $1,191.
On Monday, Jan. 30, the price of gold opened at $1,191 and climbed gradually through the day to close at $1,195 for a 0.3% gain. The price was lifted by weak global markets and news that President Trump had fired the acting attorney general for refusing to support his immigration ban. Air started coming out of stocks as the Dow Jones closed back below 20,000.
But the big gains came on Tuesday as the Trump effect kicked in even stronger. The new president talked down the U.S. dollar, saying a weaker currency would help U.S. trade with other nations. Indeed, the dollar has been on a clear downward trend since peaking at 103.82 in early January...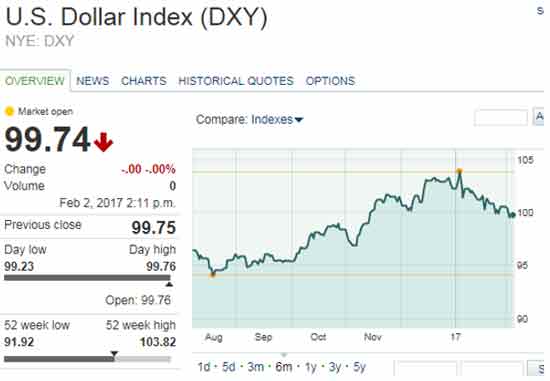 Trump's comments pushed the gold price 1.3% higher on Tuesday to close at $1,211.
On Wednesday, Feb. 1, the price of gold fell to $1,203 by late morning. However, it bounced back to $1,210 and only logged a slight 0.1% loss on the day.
The wild political roller coaster continued on Thursday, pushing gold prices up to $1,225 before 9 a.m. It retreated from there as the dollar enjoyed a mild rally, but still managed to settle 0.7% higher at $1,219. This was the highest close for an active gold futures contract since Nov. 17.
Don't Miss: Your Free Guide to Making Money from Gold This Year
But the price of gold today has slightly retreated from that two-and-a-half-month high. As of 10:05 a.m. today (Friday, Feb. 3), it's down 0.1% to $1,218. That puts gold prices on track for a weekly gain of 2.3% from last Friday's close.
As Trump seems intent on continuing to shake things up, gold prices are poised to benefit from the volatility.
That's why we see gold hitting this price target by the end of the year...
Price of Gold Today Falls, but It'll Hit This Target by the End of 2017
Join the conversation. Click here to jump to comments…
About the Author
Peter Krauth is the Resource Specialist for Money Map Press and has contributed some of the most popular and highly regarded investing articles on Money Morning. Peter is headquartered in resource-rich Canada, but he travels around the world to dig up the very best profit opportunity, whether it's in gold, silver, oil, coal, or even potash.