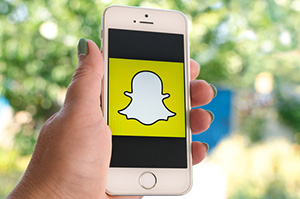 Snapchat IPO Details Update: Since October, Money Morning has been helping readers prepare for the Snapchat IPO.
Now that the official Snapchat IPO filing details are out, we want to make sure Money Morning readers know the most important details to focus on.
From revenue to shareholder voting power, here's everything you need to know before the Snapchat IPO date.
Snapchat IPO Detail No. 5: Revenue
Snapchat generated $404.5 million in revenue in 2016, according to the company's IPO filings.
That's a 597% increase over Snapchat's 2015 revenue totals of $58 million.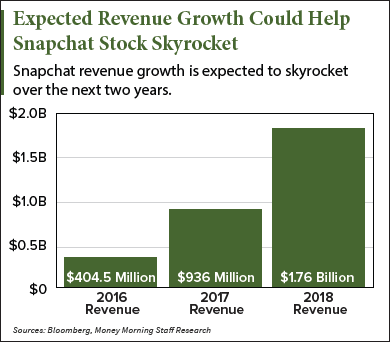 And that rapid revenue growth is expected to continue in 2017…
This year, Snapchat is expected to generate between $936 million and $1 billion in revenue.
For 2018, Snapchat is expected to generate between $1.76 billion and $2 billion in revenue.
We also know now Snapchat's official user totals…
Snapchat IPO Detail No. 4: User Totals
Snapchat has always been secretive about its user totals, and it didn't share its monthly active users (MAUs) in its prospectus.
But we now know the company roughly has 160 million daily active users (DAUs).
In comparison, Facebook Inc. (Nasdaq: FB) has 1.23 billion DAUs. Twitter didn't provide DAU totals in Q3 2016, but Bloomberg believes Twitter had 140 million DAUs as of June 2016.
According to Business Insider, the bulk of Snapchat's users right now are in North America. The company has 69 million DAUs in North America and 53 million DAUs in Europe.
Through the IPO filing details, we also know how much money Snapchat is making from each user…
Snapchat IPO Detail No. 3: Revenue per User Is Soaring
According to Business Insider, Snapchat has grown its revenue per user every quarter since Q1 2015.
The company reported $0.10 per each North American user in Q1 2015. That number skyrocketed to $0.67 per user in Q1 2016, which is an increase of 570%.
For its most recent quarter, Snapchat reported $2.15 earned per North American user. Outside of North America, we learned revenue generated per user isn't that high.
But it's slowly growing…
In Q1 2016, Snapchat reported revenue of $0.07 per European user and revenue of $0.01 per user from the rest of the world. By Q4 2016, Snapchat reported $0.28 from European users and $0.15 per user from the rest of the world.
In comparison, Facebook makes $4.83 globally in revenue per user, according to CNBC.
However, we also learned that Snapchat isn't profitable despite these revenue increases…
Snapchat IPO Detail No. 2: Snap Inc. Is Losing Money
Snapchat stock is being hyped because of its potential revenue growth.
But before buying Snapchat stock based on FOMO (fear of missing out), it's important to know Snapchat is currently losing money.
In fact, the "camera company" lost $514.6 million in 2016.
NEW: Plot your course to a 7-figure weed windfall with the top pot stocks from every ecosystem – growers, edibles, dispensaries, and more.
Snapchat could eventually become profitable, but Twitter Inc. (NYSE: TWTR) has shown the road to profitability is difficult.
Twitter lost $79.4 million in 2012 before its 2013 IPO. Since then, Twitter has yet to become profitable.
Snapchat IPO Detail No. 1: Shareholders Won't Have Voting Power
Snapchat stock will have three classes of common stock: Class A, Class B, and Class C.
However, the only available shares for retail investors will be Class A, which don't have voting rights. This is known as a "founder-led approach," which is supposed to protect CEOs from the pressures of activist investors.
But not everyone agrees with this approach…
According to The Financial Times, several of the largest U.S. pension funds object to the move.
They want their clients to have a say in the company's decisions.
Facebook is making a similar move so CEO Mark Zuckerberg can keep voting control with a 3-for-1 Facebook stock split.
With the Snapchat IPO debuting as early as March, we know investors have a lot of questions. That's why we made this Snapchat stock guide specifically for Money Morning readers.
You can find out more about the guide and how to play the Snapchat IPO, right here.
Today's Bonus Opportunity
As a service to Money Morning readers, we're now making available a 90-page cannabis investing guide called "The Roadmap to Marijuana Millions."
This "bible of weed investing" reveals the world's top marijuana stocks every serious investor should consider right now.
Normally valued at $499, it can be yours absolutely free. To learn how to get your free copy, click here.
This offer is only available to the first 500 people who respond today. So please go here now to reserve your copy.
Follow Money Morning on Facebook and Twitter.