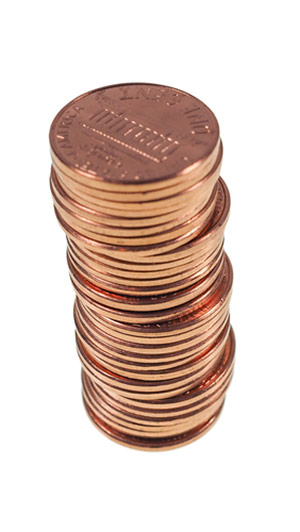 The five top penny stocks to watch this week have skyrocketed a combined 460.7% since last Friday, Jan. 27. That's more than double the S&P 500's 212% rise over the last eight years.
And with the stock market at record highs, now is a great time to watch these five penny stocks to see if their gains continue.
Again, we like to remind our readers that these five companies are not on our "penny stocks to buy" list. Investing in penny stocks is very high risk and high reward, meaning thorough research into each stock is absolutely essential. The five penny stocks below are not investment recommendations. Instead, these are just the five best-performing penny stocks of the past week.
With that in mind, here are the top-performing penny stocks over the last week (Friday, Jan. 27 through today, Feb. 3)...
Top Penny Stocks of the Week No. 5: Jaguar Animal Health Inc.
Jaguar Animal Health Inc. (Nasdaq: JAGX) develops gastrointestinal treatments for horses, dogs, and livestock animals. Its leading product is Canalevia, which is used to treat diarrhea in dogs undergoing chemotherapy treatment. Jaguar's other primary therapy is called Neonorm Foal and is used for gastrointestinal issues in young horses. The Jaguar stock price surged 56.6% on Tuesday, Jan. 31, on news that pharma giant Eli Lilly and Co. (NYSE: LLY) will pay Jaguar $1.5 million to further develop and sell Canalevia. Since Jan. 27, shares of JAGX stock have soared 42.1% to $0.78. They're up a meager 1.1% since February 2016.
Don't Miss: The 5 Best Investments to Profit from a Stock Market Crash
Top Penny Stocks of the Week No. 4: Eco-Stim Energy Solutions Inc.
Eco-Stim Energy Solutions Inc. (Nasdaq: ESES) is an energy company focused on providing oil field services. That means it's responsible for building and maintaining oil wells used to produce oil that's later sold to refiners. While Eco-Stim's operations are primarily in the United States, it has expanded its oil field services to Argentina. From Jan. 27 to Jan. 30, the ESES stock price roared 147% higher to $2 a share after the company won a one-year contract to operate in Oklahoma's most active oil and gas regions. Although shares retreated from those highs, Eco-Stim stock is still up 76.5% to $1.46 since Jan. 27. However, it's down 39% over the last 12 months.
Top Penny Stocks of the Week No. 3: Naked Brand Group Inc.
Naked Brand Group Inc. (Nasdaq: NAKD) is a clothing and apparel company based in New York City. It designs and sells sleepwear, underwear, and loungewear for both men and women. Shares of NAKD stock jumped 138% on Thursday after the company announced it was launching a new collection of women's sleepwear and loungewear called "Comfortably You." Over the last week, shares are up 109.5% to $2.78. Naked stock is up 3.2% since February 2016.
Top Penny Stocks of the Week No. 2: Benitec Biopharma Ltd.
Benitec Biopharma Ltd. (Nasdaq ADR: BNTC) is a biotech firm based in Sydney, Australia. It's developing and testing treatments for long-term diseases. These include hepatitis B, oculopharyngeal muscular dystrophy (OPMD), and age-related macular degeneration (AMD). Benitec stock gained 121% yesterday (Thursday, Feb. 2) after the firm announced it has made huge progress in advancing its ocular treatment. Since last Friday, BNTC is up 109.5% to $3.75 a share. However, the stock has declined 25.2% over the last year.
With that, here's the top penny stock of the week, which has soared nearly 130% and could go even higher in the weeks ahead...
[mmpazkzone name="end-story-hostage" network="9794" site="307044" id="138536" type="4"]
Top Penny Stocks of the Week No. 1: Pulmatrix Inc.
Pulmatrix Inc. (Nasdaq: PULM) has been one of the top-performing penny stocks of 2017. Shares have gained a massive 764.4% since Jan. 1. The firm is known for developing medications and treatments for rare pulmonary diseases. These diseases primarily harm the lungs and damage the ability to breathe normally. Among the treatments in Pulmatrix's pipeline is PUR1900. This will mainly be used to treat cystic fibrosis, which is a genetic disease that often fills the lungs with thick liquid. Pulmatrix stock is up 129.7% to $5.10 a share over the last five trading sessions. That's the highest since Nov. 20, 2015. Shares have soared 76.8% in the last year.
Want to make money? Here's how to make over $100,000 starting with a small amount of money... rolling stocks over and over again. Click here for this proven investing method...