The Dow smashed through a record 20,000 points last week (Jan. 25), but soaring highs have investors concerned the market could fall just as fast. That's why we've put together the best stock market crash investments you can buy to protect your money.
A record high Dow is usually good news for investors. But fast-paced growth can be a sign of an overheating market. The Dow's surge to 20,000 is the second-fastest 1,000-point jump in its history, just edging past the Dow's run from 13,000 to 14,000 in 2007.
And while investors in 2007 might have thought the Dow's explosive rise was great news, it ended in a stock market crash.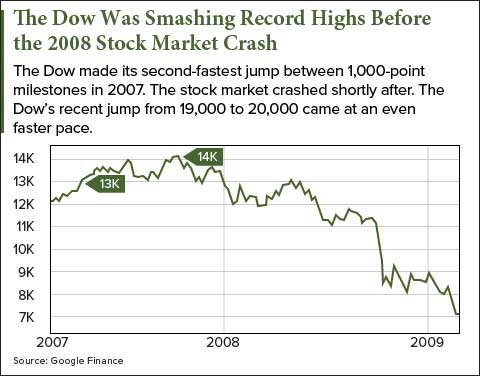 A market correction can happen at any time, even when stocks are breaking records. That's why investors need to be prepared now.
We've got you covered…
Our list of stock market crash investments will help you protect your money and even profit during a stock market crash. But before we show you how to prepare, let's look at the historic stock market crash warning signs we are seeing right now…
This Is What Causes a Stock Market Crash
A stock market bubble is inflated through speculative investing. And we are seeing signs that speculation has been helping fuel recent stock market highs.
This can lead to a stock market crash in 2017 if the market pulls back and investors sell overvalued stocks. That's exactly what happened in major stock market crashes in the past…
Don't Miss: Our Essential Guide to Buying Gold and Silver
The stock market crash of 1929 was the result of a speculative bubble. Investors piled money into stocks because they expected the market to keep rising. In fact, amateur investors borrowed $120 billion (in today's figures) to buy stocks during the Roaring '20s.
Here's why: Stocks grew 329% from 1923 until the crash in 1929. This level of growth was making people rich, and no one wanted to miss out on the profits. And people believed the markets would never fall again. A Yale economist told the nation in 1929 that stocks had reached a "permanently high plateau."
People put more and more money into stocks, which drove prices even higher, encouraging even more people to buy stocks.
But when the market dropped on Black Tuesday in 1929, investors panicked and began selling. Because they were speculating, these traders couldn't afford to lose. When stocks they thought couldn't fall began to, they had to sell. And the massive sell-off sent prices into a downward spiral. Some stocks couldn't be sold at any price.
By the time the market stabilized in 1932, it had lost $30 billion in value, half of U.S. banks had failed, and 15 million people were out of work.
Our current generation won't soon forget the stock market crash of 2008 and the Great Recession that followed.
Speculation led to this market crash, too. But this time it was speculation in real estate.
Just like in the Roaring '20s, people put their money into a market they thought would never fall. Housing prices almost doubled between 1996 and 2006. That meant buying a house started to look like a foolproof investment.
But just like in 1929, the growth wouldn't last. Housing prices fell roughly 30% from 2007 to 2009, and the market collapse triggered a stock market crash.
Beginning in September 2008, the stock market plunged 54% in just under 18 months.
And now we are seeing some of these same signs of speculation that could lead to a 2017 stock market crash. Here's what could cause the next stock market crash…
The Reason We Could Have a Stock Market Crash in 2017
Historically low interest rates have encouraged speculative investing. But the period of low interest rates is coming to a close.
Interest rates were slashed from over 5% to less than 1% in 2008.
Interest rates were cut to make borrowing money cheap. The Fed hoped low interest rates would encourage companies to borrow money to invest in growth and expansion. If companies grew, then the entire U.S. economy would grow, too.
Instead, corporations took advantage of low rates to borrow around $1.9 trillion to buy back stock in their own companies. Since 2008, corporate stock buybacks have surpassed $2.2 trillion.
These buybacks help drive up the price of corporate stocks and make companies appear more valuable. But it also means stock prices are far above what they would be without low interest rates.
In fact, one of the best measures of stock market value, the Case-Schiller price/earnings ratio, shows the market is currently overvalued. The Case-Schiller P/E ratio is currently 28.5, which is 71% higher than the historical average.
And it's the third-highest period of overvaluation on record. The two highest periods?
The years before the stock market crash of 1929 and the stock market crash of 2008.
Now the Fed is preparing to raise interest rates again.
Trending: The Money Calendar Shows Some Market Chop in 2017
Since 2008, rates have only been raised twice and still remain under 1%. But during December's FOMC meeting when rates were last raised, the Fed said it expects to raise rates at least three times in 2017.
That will push rates above 1% for the first time since 2008. And that's just the beginning.
As it becomes more expensive to borrow money and bond investors leave the market in favor of their fixed-income investments, stock values could correct. This could lead to a stock market crash in 2017.
But you don't need to worry. With the right strategy, investors can protect their money and even profit during a stock market crash. Here's how to invest during a stock market crash…
Protect Your Money with the Best Stock Market Crash Investments