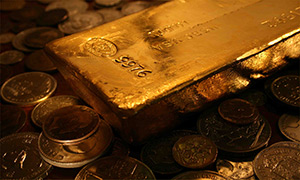 The best gold stocks in 2017 are poised to dramatically outperform the broader markets. And today, we're recommending two of the best gold stocks to buy in 2017 that will gain 20.2% and 30.5%.
You see, the stock market has been on a big rally so far in 2017. The Dow Jones Industrial Average is up 1.4% this year and trades near all-time highs above 20,000. Meanwhile, the S&P 500 has climbed 2.3% since Jan. 1.
But if you've been watching the price of gold, you know that its 2017 return of 6.8% is more than double the combined gain of the Dow Jones and S&P 500. Our two gold stock recommendations are already up 21.6% and 23.4% this year, and we expect each one to climb another 20.2% and 30.5% over the next 12 months.
Before we talk about our top gold stock recommendations, let's look at the performance of gold prices in 2017...
Gold Prices Will Benefit the Best Gold Stocks in 2017
Since Jan. 1, the gold price has gained 6.8% to $1,232. And that rally is poised to continue. Money Morning Resource Specialist Peter Krauth projects that gold prices will rise 14% through the year. At the end of December 2017, he believes the price of gold will be trading at $1,400.
Those gains promise a similar rally for the best gold stocks in 2017. That's because the two companies we're recommending are both engaged in gold mining. Any increase in the gold price means these two companies can sell their gold at a higher price.
And there are three reasons why Krauth's 2017 gold price prediction is bullish...
First Bullish Factor for Gold Prices: Inflation Rises
Gold prices move higher when inflation climbs. We expect the yearly inflation rate to be higher in 2017 based on the robust stock market and climbing interest rates.
Inflation reflects increases in the prices of goods and service. A climbing stock market reflects increasing stock prices, and stock prices don't rise for long without profits. Profits indicate that the prices of goods and services are rising. Ultimately, watching the stock market rally means you're watching inflation.
Sign up for SMS so you never miss special events, exclusive offers, and weekly bonus trades.
Best Gold Stocks in 2017: This Stock Will Rise 11.7% by January 2018
Inflation is not a good thing economically, though. It lowers the purchasing power of the U.S. dollar, which tends to lower spending from both consumers and companies. That can dampen the growth of the entire economy.
One of the reasons the U.S. Federal Reserve moves interest rates higher is to manage inflation and control the dollar's strength or weakness. In December 2016, the Fed hiked rates by 0.25% to keep the economy from overheating. It also indicated plans to raise rates several more times in 2017.
As a result, bond yields have also started to rise. The yield on the 10-year Treasury currently sits at 2.43% -- up from 2.07% just three months ago. Rising bond yields usually mean higher inflation is coming. And the most recent data from December shows the inflation rate at a 30-month high of 2.1%. That's also more than the 0.71% short-term interest rate.
Inflation isn't good news for the economy, meaning it usually spooks people into selling their stocks. When people aren't buying stocks, they're usually buying safe havens like gold. That will push both gold prices and gold stocks higher in 2017.
Second Bullish Factor for Gold Prices: Falling Volume of Short Bets
The second reason to be bullish on the price of gold in 2017 is the direction of short bet volume. For the gold sector, it's heading downward.
A short bet is a purchase based on an expectation of a stock going down rather than up. Investors who place a short bet on any stock or commodity expect to make a profit when it declines. In other words, rising volume of short positions means bearish sentiment is rising.
But the inverse is happening with gold stocks. The volume of short bets is declining and more hedge funds are going long on the gold price. According to Bloomberg, the average number of bullish positions in gold futures hit an eight-week high of 72,067 for the week ended Jan. 31.
In other words, traders and investors are buying more gold with the belief it will become more valuable. That indicates bullish sentiment for both prices and our two picks for the best gold stocks in 2017.
Third Bullish Factor for Gold Prices: U.S. Dollar Strengthens
The third reason to be bullish on gold prices in 2017 is increasing strength in the U.S. dollar.
Krauth - a 20-year veteran of the gold and silver markets - projects that gold prices will climb despite U.S. dollar strength. Although gold and the dollar are considered inversely related, they don't always have this relationship. Just look at the 1970s...
During that decade, interest rates were more than 15 times as much as the current 0.71% rate. In 1979, interest rates hit 15.5%. That remains the highest level ever in the history of U.S. interest rates.
Editor's Note: An incredibly rare gold anomaly is shaping up in the markets as we speak -- one that has occurred ONLY twice in the past 20 years. And it's about to happen again. Details here...
Still, the price of gold was 24 times higher at the end of the decade than at the beginning. It boomed alongside the dollar and enjoyed what Krauth refers to as a "bull market of epic proportions."
In addition, the interest rate hike's boost on the dollar will eventually wear off. When that occurs, the gold price will rise from the dollar's weakness.
All three of these factors make us confident our two picks for the best gold stocks in 2017 will each post double-digit returns.
Here are the best gold stocks to buy right now...