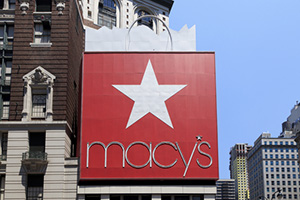 Not all industries are enjoying the Trump Rally. In fact, the retail sector is going in the complete opposite direction of the overall market. That's why we're targeting this sector for our top three stocks to short this month.
Since the start of 2017, the S&P 500 has climbed 2.4%, while the S&P Retail Select Index (which holds some of the largest retail stocks on the market) has dropped 3.9%.
Even worse, the retail stocks on this list today are down a minimum of 11% this year.
Holiday sales are a big reason these retail stocks are tanking. According to retail tracking company RetailNext, December 2016 saw brick-and-mortar store sales drop by over 10%. December 2015 only saw a 0.4% decline.
And poor holiday sales are just one thing killing our top three stocks to short today...
Stocks to Short No. 3: Macy's Inc. (NYSE: M)
Macy's Inc. (NYSE: M) has been struggling for years.
Sales were down over 2% in the 2016 holiday shopping season of November and December versus the 2015 holiday shopping season. This marks seven straight quarters of sales declines for the company.
Want to Make Money? Here's how to make over $100,000 starting with a small amount of money. Click here for this proven investing method...
That drop in sales is a potential kiss of death, according to Money Morning Global Credit Strategist Michael Lewitt.
"The company was not expecting this news [of declining sales], another sign that management is failing to adjust quickly enough to the changing retail landscape," Lewitt said.
On Jan. 4, Macy's announced a 2016 full-year guidance decline of 2.5% to 3% in same-store sales. It also reduced earnings-per-share (EPS) estimates from a range of $3.15 to $3.40 to a lower range of $2.95 to $3.10.
Macy's announces Q4 and 2016 full-year earnings on Feb. 21.
Macy's stock is trading at $31.84 for a loss of 11% year to date (YTD). Lewitt expects the stock to hit $20 in the next year for a further decline of 37%.
Stocks to Short No. 2: L Brands Inc. (NYSE: LB)
L Brands Inc. (NYSE: LB) owns well-known brands like Victoria's Secret, PINK, and Bath & Body Works.
This collection of specialty stores is doing better than some of its competitors, but it is not immune to the troubles plaguing brick-and-mortar retailers.
Even if the company hits analysts' forecast of $1.90 EPS, it will still earn less than it did the previous year. EPS for the same quarter the previous year was $2.15.
According to Yahoo Finance, projected sales growth for L Brands is declining. Last year the company saw growth of 3.6%. This year the company is only expected to hit 2.3% sales growth.
Analysts' one-year target price as listed on Yahoo Finance for L brand stock is $68.04. The low estimate of $48 is probably more accurate, given the company is in a struggling sector and revenue growth is shrinking.
L Brands announces its earnings on Feb. 22.
Currently, LB stock is trading at $58.52 for a loss of 11% YTD. If the company hits the low estimate of $48, that is a loss of another 18%.
The last stock on our list is down over 20% this year alone and has room to keep falling...
[mmpazkzone name="end-story-hostage" network="9794" site="307044" id="138536" type="4"]
Stocks to Short No. 1: Kohl's Corp. (NYSE: KSS)
Kohl's Corp. (NYSE: KSS) stock is one of the worst-performing retailers on the market.
Analysts are expecting the company to announce EPS of $1.33 on Feb. 23. This is down from last year's $1.58 EPS.
Growth is expected to be about -9.2% this year, with next year's growth expectations at 2.70%. Next year's growth target may seem optimistic, given that the average growth rate over the last five years has been -4.31%. But this stock is not turning around.
As KSS' earnings report release date gets closer, EPS expectations have declined. When Kohl's announced last quarter, earnings expectations were set at $4.10 for the current quarter.
January saw downgrades in analyst outlooks for Kohl's. Credit Suisse, Robert W. Baird, and Telsey Advisory Group have all downgraded their recommendations.
Kohl's stock is currently trading at $39.19 for a loss of 21% YTD. Analysts' low one-year price target is $32. If the stock hits the low target, it will lose another 23%.
Want to Make Money? Here's how to make over $100,000 starting with a small amount of money... rolling stocks over and over again. Click here for this proven investing method...