SpaceX shares should be on the expensive side once SpaceX stock finally debuts. Although there's no timeline on when the SpaceX IPO will take place, the company's cutting-edge spacecraft and $12 billion valuation ensure it will rank among the biggest IPOs of the decade.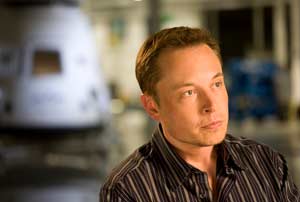 You see, the company's goals expand beyond just launching cool rockets. Elon Musk, SpaceX's prolific CEO, plans to start developing a human colony on Mars by 2022. This seemingly impossible task is why Musk is determined to accomplish it.
"We have goals that are absurdly ambitious by any reasonable standard, but we're going to make them happen," Musk says on the SpaceX website.
Must Read: Former Google Exec Quits Dream Job to Launch Marijuana Empire
Despite this long-term mission, launching rockets is still the company's bread and butter right now. A supply launch using one of SpaceX's Falcon 9 rockets costs third-party clients like NASA roughly $62 million. For the company's much larger Falcon Heavy, it costs around $90 million.
And the company just announced a new launch initiative that could drastically increase the price of SpaceX shares once the firm goes public. With a sky-high share price, SpaceX stock will make an unprecedented splash when it debuts on the stock market.
Here's why this big SpaceX news could influence the SpaceX IPO…
This News Just Boosted the Pre-IPO Value of SpaceX Shares
On Monday, Feb. 6, SpaceX President Gwynne Shotwell said the company plans to increase the launch frequency of its Falcon 9 rockets to every two to three weeks. This will be the company's fastest rate of launches since Falcon 9 launches began in 2010. Since the start of 2015, SpaceX has only launched between seven and nine Falcon 9 rockets each year.
The ambitious schedule will start once the firm's new Florida launch pad at Kennedy Space Center is operational. According to Shotwell, the company will also modify the Falcon 9's engines to boost performance and improve safety.
The news comes after SpaceX's huge rocket explosion in September 2016 at the firm's original Cape Canaveral launch site. The blast was reportedly felt for miles and completely destroyed the rocket and $200 million satellite it was transporting.
Interested in SpaceX Shares? Here's How to Invest in the Biggest Tech IPO of 2017
But SpaceX's newest effort to ramp up supply launches will undoubtedly attract more funding in 2017. The company has already accrued $1.1 billion over seven funding rounds. Its stunning 3,233% growth from $30 million in Series D funding to $1 billion in Series E crushed the growth of higher-valued companies over the same rounds. Flipkart, for example, only saw funding increase by 140% from $150 million to $360 million over the same rounds.
This chart below shows the highest-valued private companies in the world, with SpaceX holding the 11th-place spot…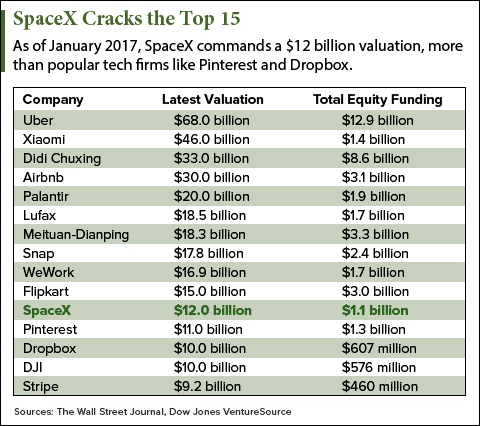 The $12 billion SpaceX valuation – as well as the firm's impressive funding growth – ensure the SpaceX IPO will be a huge market event.
That leaves the most important question in the wake of the recent SpaceX news…
Will Shares of SpaceX Stock Hit the Market in 2017?
The company hasn't filed with the U.S. Securities and Exchange Commission (SEC) for an IPO yet. And unfortunately, SpaceX probably won't go public in 2017 for two important reasons…
First and foremost, SpaceX's primary business is experimenting with rockets. This has obviously led to launch failures. The one last September was its fifth failure since 2006. Because the company currently deals with this kind of trial and error, SpaceX stock wouldn't be the most welcome investment on Wall Street right now. Short-term incidents like these could scare investors into selling their SpaceX stock, which would harm the company's goals beyond rocket launches.
The second reason is that Elon Musk simply doesn't want to take the company public anytime soon. At Tesla Inc.'s (Nasdaq: TSLA) annual shareholder meeting in June 2015, he said keeping SpaceX private is crucial to fulfilling the long-term goal of Mars colonization. When asked about the SpaceX IPO, he said it will happen "once flights to Mars begin."
The Bottom Line: Investors have been wanting to own SpaceX shares for years now. Despite the five launch failures over the last decade, SpaceX has still managed to stoke plenty of interest from people looking for an ambitious company with a revolutionary mission. SpaceX's announcement this week that it will ramp up rocket launches continues to prove it will be a thrilling stock to buy. But don't plan on the SpaceX IPO happening in 2017. The experimental nature of its business and Musk's focus on colonizing Mars ensure it will remain private for the foreseeable future.
Editor's Note: One of the fastest-growing tech investment segments is… cannabis? Yes, you read that right. A high-tech approach to cultivating this ancient plant – that's already legal to use in more than half of 50 states – is generating a multibillion-dollar investment opportunity for early investors. Click here to find out more, including how you can get your copy of Michael Robinson's Roadmap to Marijuana Millions. Packed with more than 30 great companies to buy, it's fast becoming "the weed investor's bible." Check it out…
Follow Alex McGuire on Twitter and like Money Morning on Facebook.