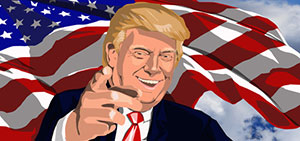 When President Donald Trump tweets negatively about a company, the company's stock price can quickly drop.
Boeing Co. (NYSE: BA) shareholders know this all too well, as the BA stock price dropped by 1.5% after President Trump tweeted on Dec. 6, 2016, that the company's costs were out of control.
And these volatile price swings are why it's so important for investors to own Trump-proof stocks in 2017.
Money Morning Director of Tech and Venture Capital Research Michael A. Robinson expects this to be a continuing trend throughout the Trump presidency.
"The truth is, it's likely we can look forward to this kind of 'volatility' from here on out," Robinson said on Dec. 15.
Sign up for SMS so you never miss special events, exclusive offers, and weekly bonus trades.
But Robinson has one stock that provides high-growth, low-stress protection from President Trump's tweets.
And there's a lot to like about this stock:
Over the last 12 months, this stock has climbed 43%. In comparison, the Dow Jones Industrial Average is up just 23.73%.
This company pays its shareholders a dividend of $0.62 per share, which is a yield of 1.56%.
The stock price has a one-year price target of $181.86, which is a potential profit of over 13% from where it's trading today.
This stock has an average rating of "Buy," according to FactSet.
"I can't imagine any mere 140 characters are going to ding it," Robinson said.
But he also said it's only a matter of time before Wall Street and everyone else starts to notice this stock.
Fortunately for Money Morning readers, you'll be getting ahead of the crowd on owning this top Trump-proof stock.
Here's everything you need to know about the stock Robinson said will provide "stress-free upside potential."
Own One of the Top Trump-Proof Stocks Now