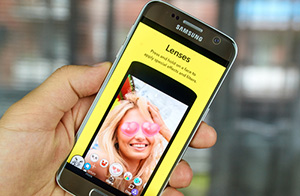 With an IPO that could happen as early as March, investors are anxious to learn more about the Snapchat valuation. Right now, the valuation is reportedly $25 billion, but it could climb to $40 billion by the time the IPO debuts.
And this massive valuation is making Snapchat one of the most hyped public offerings on Wall Street.
However, a large valuation alone doesn't mean you should invest in the Snapchat IPO...
So before Snapchat stock starts trading, we wanted to make sure our readers were prepared for the Snapchat IPO date.
Here's everything you need to know about Snapchat...
How Snapchat Works
Snap Inc. is the parent company of Snapchat, which was founded in 2011.
Unlike other social media sites, Snapchat is an entirely mobile-based app, so you can only access it from your smartphone.
The app allows users to send videos and pictures with different filters and animations. And after a message is viewed, it will disappear in a matter of seconds.
Trending Story: 5 of the Best Stocks to Buy Now
From Snapchat's IPO filing, we know now that the Snapchat app has roughly 160 million daily active users (DAUs).
And this growing user base is allowing Snapchat to rapidly increase its advertising revenue...
How Snapchat Makes Money
In its IPO filing, Snapchat said it generated $404.5 million in revenue for 2016.
And that money comes from two main sources: Sponsored Lenses and ads.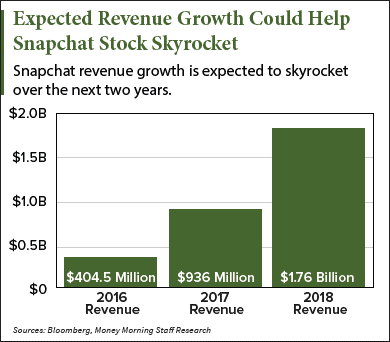 Through Sponsored Lenses, advertisers pay to create filters for pictures and videos. For example, 20th Century Fox paid for a lens to promote "The Peanuts Movie." Snapchat users could add characters like Woodstock and Snoopy to their pictures.
A lens runs for 24 hours and can cost anywhere from $100,000 to $750,000.
Snapchat also makes money from placing ads in its Snaps. Through the ads, advertisers can direct users to videos, articles, or a mobile website.
Because of these growing revenue sources, Snapchat is expected to generate between $936 million and $1 billion for 2017.
By 2018, Snapchat is expected to generate $1.76 billion in revenue.
But also keep in mind that Snapchat isn't profitable yet. The company recorded a net loss of $514.16 million in 2017.
If you're still considering investing in Snapchat stock, here's how you play the IPO...
How to Play the Snapchat IPO