"Should I open a Bitcoin IRA?" is a question you'll be hearing more often in 2017 as the cryptocurrency gains favor in the retirement investing industry.
The rising price of Bitcoin over the past two years – 123% last year and 35% in 2015 – makes it a tempting addition to a diversified retirement portfolio, even in small amounts.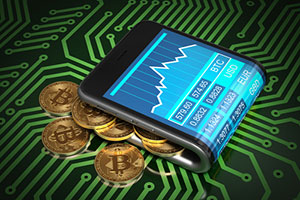 And yet many investors aren't aware they can open a Bitcoin IRA right now if they wanted to.
It's actually been possible to put Bitcoin into an IRA since 2014, when the Internal Revenue Service (IRS) made its ruling on Bitcoin, declaring it a property for tax purposes.
When it comes to investing in Bitcoin, however, most of the attention has been focused on the prospects for the first Bitcoin ETF (exchange-traded fund). The Securities and Exchange Commission (SEC) must decide whether to approve the Winklevoss Bitcoin ETF by March 11.
But a Bitcoin IRA is an option that deserves consideration…
How to Open a Bitcoin IRA
Opening a Bitcoin IRA is only a little trickier than opening an IRA that has investments in standard fare like mutual funds, stocks, and bonds.
The biggest sticking point is finding an IRA custodian that accepts "alternative investments" like Bitcoin. (Other alternative investments include real estate, precious metals, hedge funds, and commodities.)
Most of the household-name brokerages don't offer such an option. So investors need to seek out an IRA custodian that specializes in "self-directed" IRAs. This variant of IRA provides much more flexibility, but demands that an investor be very much "hands-on."
Self-directed IRA custodians include Pensco Trust Company and Equity Trust Company, but there are literally dozens of others. As with nearly all aspects of self-directed IRAs, investors need to do their research to find a good fit.
New Report: Start Collecting a "Second Salary" with These Powerful Income Generators
One company, the fittingly named Bitcoin IRA, devotes itself entirely to this niche of investing.
Run by Ed Moy, a former director of the U.S. Mint, Bitcoin IRA has enjoyed rapid growth since launching in  2016. In December, Bitcoin IRA announced it had opened accounts worth more than $2 million. That figure has more than doubled since then.
Once you've selected a custodian, though, opening a Bitcoin IRA is much like opening any IRA.
You still have to decide between a traditional IRA and a Roth IRA, for instance.
With a traditional IRA you get to deduct your contribution from your taxes that same year, but withdrawals are taxed at your then-current rate. The Roth IRA is the opposite. You get no tax break when you make a contribution, but withdrawals are tax-free. Which is best depends on the individual and in particular on when they believe their tax rate will be lowest – in the present or the future.
Likewise, Bitcoin IRAs follow all the rules that apply to IRAs regarding limits on annual contributions and when distributions must be taken.
All of these are important considerations, but investors still need to decide, given other choices for investing in Bitcoin, whether a Bitcoin IRA is the way to go.
Here are the pros and cons…
Should I Open a Bitcoin IRA?