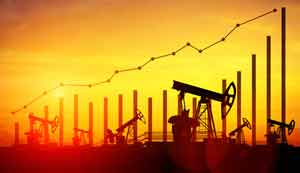 In January 2016, crude oil prices hit their lowest price in 10 years. Since then, oil prices have surged 48%, and they are going even higher in 2017. To help you profit from these soaring prices, we're giving you the best crude oil stock in 2017.
The price of WTI crude oil fell to a 10-year low of $35.79 in January 2016. That was a 61% fall from a $90.89 a barrel high in 2014.
But the rebound in oil prices isn't over yet. Money Morning Global Energy Strategist Dr. Kent Moors predicts that oil prices could climb another 20% in 2017.
And higher oil prices are reinvigorating the American oil industry. American oil production has grown 6% since just October. That means owning the right oil stocks is going to be a top money-making play in 2017.
The crude oil stock we want to show you blew up for 40% gains since February last year.
And nearly half of the financial analysts surveyed by Yahoo Finance rate this oil company stock as a strong buy. That's no surprise, because the same analysts expect this company's revenue to grow another 17% this year.
But before we get to our best oil stock to buy now, here's why oil stocks are great plays in 2017...
Why Crude Oil Stocks Are Going Up in 2017
There are three big reasons the best oil stocks will be great plays in 2017.
First, oil prices are rising again.
In November 2016, OPEC reached a deal with 11 other nations to cut oil production by 1.2 million barrels a day. Slashing oil production is a way of limiting supply and pushing prices higher.
OPEC's production cut was its first since 2008 and shows that the cartel is serious about managing oil supply again. That's why Moors believes that as long as OPEC keeps the agreement in place, the price of oil could rise above $60 per barrel by Q2 2017.
Trending Now: Our Bold 2017 Oil Price Forecast
Second, as OPEC cuts oil supply, the demand for oil is continuing to rise.
The latest forecast from the EIA calls for a 25% increase in the world demand for energy by 2040. And oil will be the primary source of energy to meet that demand.
In its most recent "Energy Outlook," Exxon Mobil Corp. (NYSE: XOM) predicted oil will continue to be the primary source of the world's energy through 2040.
That means oil companies are going to be fulfilling a key source of energy demand in the near future. And that will be great for profits in 2017.
Third, as demand increases, the Trump administration is rolling back regulations on American oil producers.
President Trump has proposed to make "America energy independent," and he says he'll do that by limiting restrictions and regulations on domestic energy companies.
That's already paid off for American oil companies. Just a few weeks ago (Jan. 24), the president issued an executive order to end restrictions on the Keystone XL and Dakota Access pipelines.
Energy Transfer Partners LP (NYSE: ETP) owns Dakota Access. Its stock has jumped 9% since the executive order was signed.
And these oil-friendly policies are coming to the rest of the industry.
New Report: Start Collecting a "Second Salary" with These Powerful Income Generators
President Trump has nominated Oklahoma Attorney General Scott Pruitt to head the EPA. Pruitt came onto the national scene by suing the EPA repeatedly as attorney general. Pruitt's lawsuits were aimed at what he believed were unfair restrictions on oil companies in Oklahoma. Now he will head the agency.
President Trump's secretary of state is also the former CEO of Exxon Mobil. While Rex Tillerson won't oversee domestic policy, his rise to such a prominent post likely indicates Trump's favorability toward oil.
Now that you've seen why 2017 is going to be a great year for oil stocks, it's time to profit. Here's our best oil stock to buy now...
The Best Crude Oil Stock in 2017