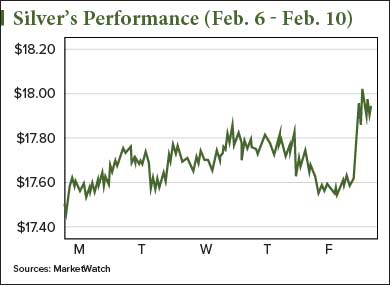 In silver news today (Friday, Feb. 10), the price of silver closed 1.1% higher at $17.93. With that gain, silver logged a weekly rise of 2.6%.
The most shocking part about silver's performance is how it's rallied in the face of news that's usually bearish for silver prices.
Even if this news persists, Money Morning Resource Specialist Peter Krauth expects the price of silver to keep rallying this year. That's why we're going to reveal our silver price prediction for 2017.
First, here's the news story that failed to put a damper on the silver price this week...
How This Silver News Story Has Affected Prices This Week
The big story for both silver investors and broader market participants has been the Dow Jones Industrial Average hitting new all-time highs this week.
You see, investors everywhere rejoiced when the Dow Jones soared above 20,000 for the first time ever on Jan. 25. The index had already teased the milestone on Jan. 6 when it reached 19,999 during intraday trading. The S&P 500 also reached a fresh high late last month.
Must See: Get a "Second Salary" with These Easy Investments
But the Dow Jones broke through that ceiling yesterday (Thursday, Feb. 9) to close at a new all-time high of 20,169.42. It set another record high today when it gained 0.5% to close at 20,269. These consecutive fresh gains come after President Trump said he plans to announce a "phenomenal" new tax plan.
A record-high stock market is typically bad news for silver prices. Investors are more inclined to put their money in stocks instead of silver when stock prices are skyrocketing. That's because physical silver serves as a hedge against dramatic declines in the Dow Jones or S&P 500.
But as you can see, the 2.6% jump in the price of silver this week shows there's still plenty of demand for the metal. And Krauth - a 20-year veteran of the silver and gold markets - says demand will remain strong in 2017 thanks to one other growing trend in the industry...
Demand Will Push the Silver Price to Our Bullish Target in 2017