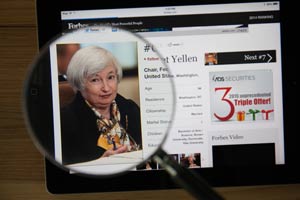 U.S. Federal Reserve Chair Janet Yellen will appear before the Senate Banking Committee today (Tuesday, Feb. 14).
You see, the Janet Yellen speech today is must-watch news for investors because it will likely feature some hostile questioning.
Republican majorities in both the House and Senate are looking to curb the Fed's power. Expect questions that will intentionally put Yellen at odds with Republican lawmakers.
Here's what you need to know about Yellen's speech today...
3 Topics to Watch in the Janet Yellen Speech Today
The biggest thing investors are looking for is an indication of when the next rate hike will occur.
Yellen has been a proponent of gradually increasing rates. This slow pace is meant to prevent inflation from rising too fast while also avoiding derailing economic growth.
Don't Miss: Interest rates will soon increase. Here's what you need to know to be prepared.
Lawmakers, on the other hand, are interested in Yellen's stance on the Dodd-Frank financial regulations of 2010 and the "Audit the Fed" legislation that is pending.
The Dodd-Frank conversations are likely to be tense. The Fed is in favor of the regulations and also oversees the implementation of the financial reforms. The Republican majority legislators oppose the regulations as ineffective.
The third hot topic will be the Audit the Fed legislation that Republicans are looking to enact. It will also be the most contentious...