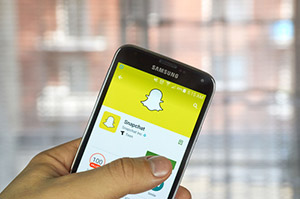 Before investing Snapchat stock, there is a lot of information for investors to sift through.
The SEC filing for Snap Inc., the parent company of Snapchat, is over 170 pages long. Today, we're cutting through that clutter to bring Money Morning readers a Snapchat IPO guide with four of the most important facts you need to know.
In fact, some investors have already lost money because they didn't know the answer to the question below...
What Is the Snapchat Stock Symbol?
The Snapchat stock symbol is SNAP, and it will be listed on the New York Stock Exchange (NYSE). Retail investors will have to wait until the Snapchat IPO date before they can buy shares. Only big banks and wealthy institutions can buy Snapchat stock before the IPO.
Unfortunately, some overeager investors believed they could beat other retail investors in owning shares of Snapchat stock...
Some investors bought shares of Snap Interactive Inc. (OTCMKTS: STVI), mistaking it for Snap Inc.
Shares of STVI climbed from $4.60 on Feb. 3 to $10 per share on Feb. 6.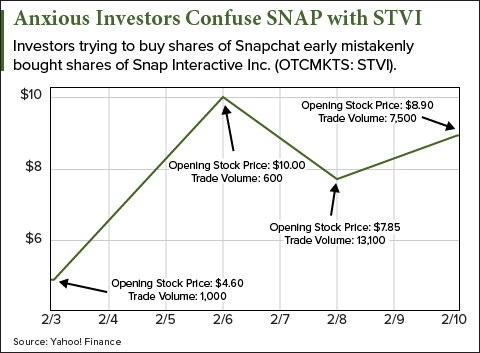 An official Snapchat IPO hasn't been set. But to own Snapchat stock, investors will need to buy shares of Snap Inc. (NYSE: SNAP).
But before investing in SNAP, we wanted to make sure our readers knew about Snapchat voting rights...
What Are Snapchat Shareholder Voting Rights?
CEO Evan Spiegel and co-founder Robert Murphy each own 21.8% of Snapchat Class A stock for a total of 43.6%.
The other largest shareholders of Class A stock are Benchmark (a venture capital firm) and Lightspeed Venture Partners.
Want to Make Money? Here's how to make over $100,000 starting with a small amount of money... rolling stocks over and over again. Click here for this proven investing method...
Benchmark owns 12.7% of Snapchat Class A stock, and Lightspeed owns 8.3%.
Spiegel and Murphy will control the majority of Snapchat's voting power. And because of how they are structuring their IPO, Snapchat shareholders won't have any voting power.
That means SNAP shareholders can't:
Submit shareholder proposals
Place pressure on the board to fire the CEO
Block or approve a takeover offer or merger
Nominate, elect, or replace members of the board
That's one of the risks involved in owning Snapchat stock, but not the biggest...
Who Are Snapchat's Biggest Competitors?
In its IPO filing, Snapchat said its biggest competitors are:
Apple Inc. (Nasdaq: AAPL)
Facebook Inc. (Nasdaq: FB)
Instagram (Facebook owned)
WhatsApp (Facebook owned)
YouTube (Alphabet Inc. [Nasdaq: GOOGL] owned)
Twitter Inc. (NYSE: TWTR)
Kakao (mobile instant messaging app)
LINE (instant messaging app for smartphones, tablets, and personal computers)
Naver (Internet content service operator headquartered in South Korea)
Tencent (Chinese investment holding company that offers social networks and online games)
This is standard practice in IPO filings. Snap Inc. wants potential investors to know the risks of investing in Snapchat stock.
Knowing these competitors is important, because it could affect Snapchat's ability to make money...
How Much Money Did Snapchat Make in 2016?