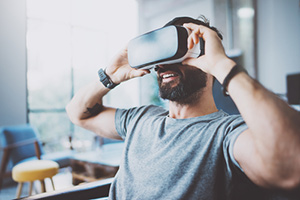 Right now, forward-looking investors are eyeing virtual reality stocks because of the massive profit potential in the industry.
The virtual reality (VR) market is expected to grow from $1.37 billion in 2015 to $33.9 billion by 2022, according to MarketsandMarkets.
That's an increase of 2,374% in just seven years.
But finding the best virtual reality stocks to buy now isn't easy. From chipmakers to headsets, there are a lot of ways to invest in VR.
That's why today, we're sharing four ways to play the VR market before it experiences massive growth.
And over the last 12 months, these first two stocks we'll share have climbed 31.26% and 27.55%, respectively...
Virtual Reality Stocks to Watch: Facebook & Microsoft
Facebook Inc. (Nasdaq: FB) took pre-orders for its virtual reality headset Oculus Rift on Jan. 6, 2016.
Oculus Rift is mainly used for gaming right now. In "Surgeon Simulator," you can virtually operate on a patient. In "Arizona Sunshine," you can fight off a zombie horde.
But Facebook CEO Mark Zuckerberg has bigger plans for VR technology...
Zuckerberg believes the technology could be used at sporting events, in schools, and in hospitals. He could also use the technology to create VR experiences through Facebook.
Must Read: Snapchat IPO Facts to Know Before Snap Stock Goes Public
Instead of just sharing pictures and videos with friends, Facebook users could eventually be in the "same room" as their friends through VR. Zuckerberg could then have advertisers pay to "sponsor" the experience with product placements within the virtual world.
The second virtual reality stock to watch is Microsoft Corp. (Nasdaq: MSFT).
Microsoft's HoloLens isn't commercially available, but developers can pay $3,000 for the Development Edition.
When Microsoft does release a commercial version of HoloLens, it can integrate its Xbox gaming console with VR technology.
But like Zuckerberg, Microsoft has grander ambitions for VR technology than just gaming...
According to its website, the software maker is developing "mixed reality" experiences with the HoloLens. In mixed reality, objects, places, and people from the virtual and physical worlds merge together.
For example, Volvo was one of the first companies to partner with Microsoft to test the HoloLens.
The car shopping experience right now is very basic, as potential customers can only look at pictures, read reviews, or visit dealerships.
But Volvo is betting that will change...
On its website, Volvo said HoloLens could eventually enable potential customers to virtually configure a car's wheel design, color, and trim.
Volvo also said Microsoft's technology will help show customers safety innovations and how their advanced powertrains are used to support drivers in different conditions.
But as we mentioned, investing in companies that make headsets isn't the only way to profit from VR technology.
Here are two other ways to play the growing and lucrative VR market...
Two Virtual Reality Stocks to Watch in 2017