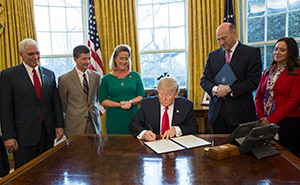 On Tuesday (Feb. 14), President Trump signed his third bill into law, eliminating a Dodd-Frank regulation requiring resource-extracting companies to disclose payments to foreign governments.
This new "Trump transparency rule" basically means oil companies don't have to report any of their payments to other governments any longer. And while many oppose the Trump transparency rule, we view this as a bullish catalyst for oil stocks in 2017.
The rule comes from the Congressional Review Act, which allows Congress to overturn recently made rules by the executive branch. The Obama administration finalized the disclosure rule for oil companies in June 2016.
"It's a big deal," President Trump said as he signed the law.
We think so, too, especially for oil stocks. Before we get into what this means for oil stocks and your investments, here's a closer look at the Trump transparency rule…
What the Trump Transparency Rule Means
The Dodd-Frank law passed in 2010 contained a provision directing the Securities and Exchange Commission to issue new rules. Specifically, the SEC was directed to create a rule requiring oil, gas, and mineral companies to publicly disclose any payments made to foreign governments.
The SEC finally created that disclosure rule last year.
According to the SEC, the oil company transparency rule was designed to fight corruption in resource-rich countries, where governments accept bribes from corporations before allowing access to their natural resources.
The Dodd-Frank rule was meant to weaken this "resource curse."
Trending: There Are Big Changes and Big Profits Coming to the Oil Sector in 2017
But critics argued the financial disclosure rule made American oil and gas companies less competitive. The lobbying organizations for the oil and gas industry were vocal about their disagreements.
"The SEC's rule forces U.S. companies to disclose propriety information to competitors while foreign entities do not," said Stephen Comstock, the director of tax policy for the American Petroleum Institute, during a June interview.
That means an oil giant like Saudi Aramco wouldn't be required to disclose any foreign payments, while American oil companies would.
By getting rid of the rule, American oil companies won't have to disclose these payments any longer.
But here at Money Morning, we're more interested in what Trump's transparency rule means for your investments.
And we think this rule signals a major profit opportunity for you…
How to Profit from President Trump's Energy Policies