Deere & Co. (NYSE: DE) has been on a massive 40%, 12-month run, right alongside a strengthening overall global economy.
It's not a bad time to produce the equipment used to "Rebuild America." The momentum is very strong here.
Still, not everyone on Wall Street is a fan. You see, the shares have been just a bit more volatile than the market, so they see it as a risk.
I'm going to show you why they're dead wrong, and why today, right before this American classic reports earnings, is the perfect day to buy.
You see, it's all about the kind of volatility in play with this stock. I call it "upside volatility," and it's an extremely powerful profit-maker…
Strong "Upside Volatility" Is Working Here
Over the last year, Deere & Co. has seen 126 days where the stock traded higher. Over the same
period, the S&P 500 has been higher 131 days. Let's call that a draw.
The real difference in volatility is here…
The average one-day move for Deere & Co. on those days was 1.2%. The average move for the S&P 500: 0.6%.
Now, that's the right kind of volatility – "upside volatility," the kinds of moves that spur really big gains – something traders like us absolutely love to see.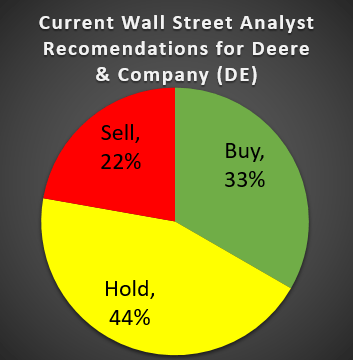 Not everyone else agrees.
Those Wall Street types I mentioned earlier, the analysts who are actually down on this company? Well, it turns out only 33% of them have rated John Deere a "Buy."
Right now, they're happy to just sit back and watch DE double the S&P 500. But soon enough, they'll realize what I'm about to show you and upgrade their outlooks. That's only going to help boost our profits.
Short sellers are also in this company up to their necks.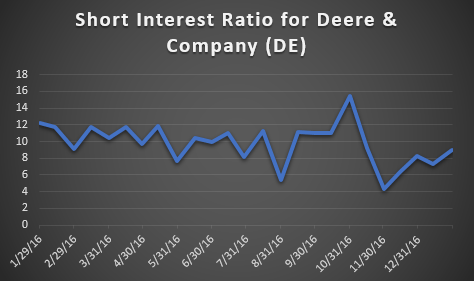 Currently, there are nine times the average daily volume of Deere & Co. shares tied up in short sales.
This means that short sellers are on the hook to cover lots of positions that will be losing money when the stock moves higher.
Here's why I think we'll win big… and leave the skittish analysts and short sellers in the dust.
Because, looking at the charts, it's hard to figure out why the market hasn't jumped on the Deere & Co. bandwagon yet.
The Technical Picture Looks Good… Really Good
Join the conversation. Click here to jump to comments…
About the Author
Chris Johnson is a quant - he's obsessed with building and perfecting mathematical models that allow him to predict, with startling accuracy, the direction of the markets, entire sectors, and individual securities. For the last year, he's been researching and building a new system that lets him move swiftly in and out of the hottest stocks in the market for life-changing gains - entirely on his own terms. The results of his newly-minted Night Trader system are nothing short of amazing.
Chris also contributes to Money Morning as the Quant Analysis Specialist.