Deere & Co. (NYSE: DE) has been on a massive 40%, 12-month run, right alongside a strengthening overall global economy.
It's not a bad time to produce the equipment used to "Rebuild America." The momentum is very strong here.
Still, not everyone on Wall Street is a fan. You see, the shares have been just a bit more volatile than the market, so they see it as a risk.
I'm going to show you why they're dead wrong, and why today, right before this American classic reports earnings, is the perfect day to buy.
You see, it's all about the kind of volatility in play with this stock. I call it "upside volatility," and it's an extremely powerful profit-maker…
Strong "Upside Volatility" Is Working Here
Over the last year, Deere & Co. has seen 126 days where the stock traded higher. Over the same
period, the S&P 500 has been higher 131 days. Let's call that a draw.
The real difference in volatility is here…
The average one-day move for Deere & Co. on those days was 1.2%. The average move for the S&P 500: 0.6%.
Now, that's the right kind of volatility – "upside volatility," the kinds of moves that spur really big gains – something traders like us absolutely love to see.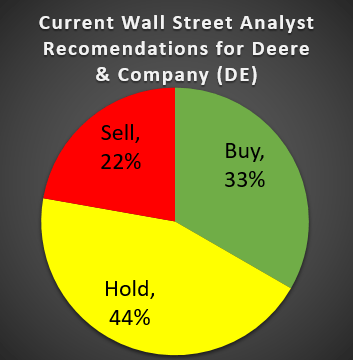 Not everyone else agrees.
Those Wall Street types I mentioned earlier, the analysts who are actually down on this company? Well, it turns out only 33% of them have rated John Deere a "Buy."
Right now, they're happy to just sit back and watch DE double the S&P 500. But soon enough, they'll realize what I'm about to show you and upgrade their outlooks. That's only going to help boost our profits.
Short sellers are also in this company up to their necks.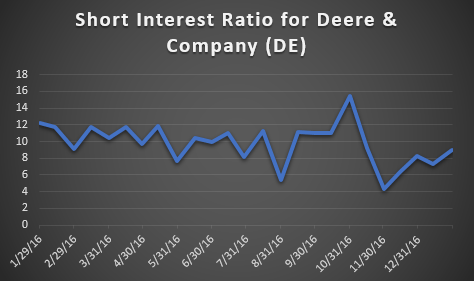 Currently, there are nine times the average daily volume of Deere & Co. shares tied up in short sales.
This means that short sellers are on the hook to cover lots of positions that will be losing money when the stock moves higher.
Here's why I think we'll win big… and leave the skittish analysts and short sellers in the dust.
Because, looking at the charts, it's hard to figure out why the market hasn't jumped on the Deere & Co. bandwagon yet.
The Technical Picture Looks Good… Really Good
Join the conversation. Click here to jump to comments…
About the Author
Chris Johnson is a highly regarded equity and options analyst who has spent much of his nearly 30-year market career designing and interpreting complex models to help investment firms transform millions of data points into impressive gains for clients.
At heart Chris is a quant - like the "rocket scientists" of investing - with a specialty in applying advanced mathematics like stochastic calculus, linear algebra, differential equations, and statistics to Wall Street's data-rich environment.
He began building his proprietary models in 1998, analyzing about 2,000 records per day. Today, that database, which Chris designed and coded from scratch, analyzes a staggering 700,000 records per day. It's the secret behind his track record.
Chris holds degrees in finance, statistics, and accounting. He worked as a licensed broker for 11 years before taking on the role of Director of Quantitative Analysis at a big-name equity and options research firm for eight years. He recently served as Director of Research of a Cleveland-based investment firm responsible for hundreds of millions in AUM. He is also the Founder/CIO of ETF Advisory Research Partners since 2007, noted for its groundbreaking work in Behavioral Valuation systems. Their research is widely read by leaders in the RIA business.
Chris is ranked in the top 99.3% of financial bloggers and top 98.6% of overall experts by TipRanks, the track record registry of financial analysts dating back to January 2009.
He is a frequent commentator on financial markets for CNBC, Fox, Bloomberg TV, and CBS Radio and has been featured in Barron's, USA Today, Newsweek, and The Wall Street Journal, and numerous books.
Today, Chris is the editor of Night Trader and Straight-Up Profits. He also contributes to Money Morning as the Quant Analysis Specialist.