(Kitco News) – Asian and European stock markets were mostly higher Wednesday, following the lead of the U.S. stock indexes that set record highs on Tuesday. U.S. stock indexes are pointed toward narrowly mixed openings when the New York day session begins.
World equity markets were supported in part overnight by Federal Reserve Chair Janet Yellen on Tuesday giving an upbeat assessment of the world's major economies. She spoke before the U.S. Senate in the semi-annual Humphrey-Hawkins reports. Yellen also hinted the U.S. interest rates will be increased sooner rather than later. The Fed chair speaks to the U.S. House Financial Services Committee Wednesday morning.
Gold prices are modestly higher Wednesday morning as some ongoing safe-haven demand is slightly offsetting a stronger U.S. dollar index recently.
It's a very heavy day for U.S. economic data Wednesday. Reports due out include the weekly MBA mortgage applications survey, real earnings, the consumer price index, the Empire State manufacturing survey, retail sales, industrial production and capacity utilization, manufacturing and trade inventories, the NAHB housing market index, Treasury international capital data, and the weekly DOE liquid energy stocks report.
The key "outside markets" on Wednesday morning find the U.S. dollar index trading higher and hitting a three-week high overnight. The greenback bulls have upside momentum as prices have been trending higher for three weeks. Meantime, Nymex crude oil prices are weaker. Oil prices are back in a sideways trading range that has bound that market for weeks.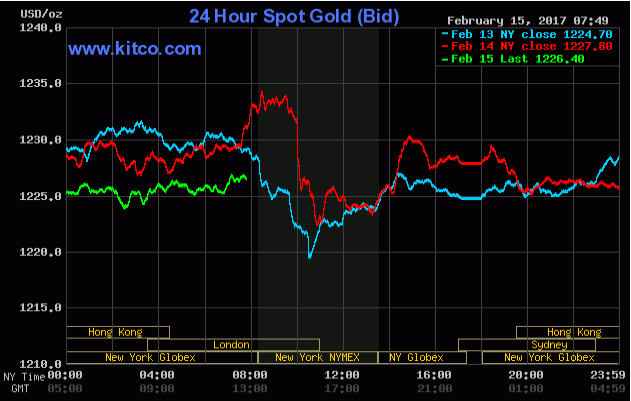 By Jim Wyckoff, contributing to Kitco News; jwyckoff@kitco.com
Follow Jim Wyckoff @jimwyckoff for breaking news.