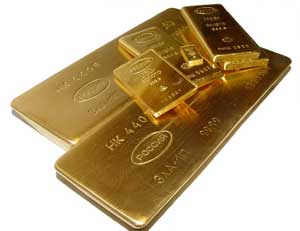 Gold is up 6.8% so far this year, and Money Morning Resource Specialist Peter Krauth's new price of gold prediction sees more gains ahead in 2017.
In fact, Krauth - a 20-year veteran of the gold and silver markets - expects the gold price to reach $1,400 an ounce by the end of the year. That would be a 13.5% rise from the current price of $1,233.
While that gold price gain isn't too stunning, its bullish effect on gold stocks will be more pronounced. If gold prices climb 13.5% this year, we'll be looking at even bigger gains for gold producers cashing in on the higher prices. For example, shares of miner Agnico Eagle Mines Ltd. (NYSE: AEM) are already up 13.6% in 2017.
But Agnico isn't the gold stock we're recommending today. Our pick for the best gold stock to buy right now has outperformed Agnico by 14.7% this year, and it could climb another 60.7% by February 2018.
This gold mining company also happens to be one of the world's top producers of gold. It owns 10 gold mines and produced nearly 4 million ounces in 2015.
Here are three reasons why gold prices and our gold stock recommendation are set to rally in 2017...
Price of Gold Prediction Factor No. 1: Rising Inflation
Both gold prices and gold stocks will climb in 2017 due to inflation. This year, the inflation rate is going to rise as a result of the ongoing stock market rally and rising 10-year Treasury.
Inflation is fundamentally tied to market rallies. Stock market gains are the result of rising stock pricing. When we have these rallies, the purchasing power of the U.S. dollar is diminished, which results in less overall spending.
Don't Miss: An incredibly rare gold anomaly is shaping up in the markets as we speak -- one that has occurred ONLY twice in the past 20 years. And it's about to happen again. Details here...
When this happens, the Fed will raise interest rates in an effort to keep the dollar and inflation under control. In December 2016, the Fed increased interest rates by 0.25% with promises for multiple rate hikes in 2017. Despite the efforts to dampen growth in the market, the Dow Jones Industrial Average has closed at a new all-time high for five sessions in a row. Since Feb. 8, the index is up 2.8% to 20,609.59.
Meanwhile, bond yields have been soaring to record levels. The 10-year Treasury yield is up from 1.57% six months ago to 2.48% today (Thursday, Feb. 16). On Dec. 15, 2016, the yield reached 2.60% -- the highest since June 2014. When bond yields are rising, it's a strong sign that inflation rates are moving higher.
When we have a volatile dollar, investors look for a safe-haven investment like gold. This is good news for both the price of gold and for gold stocks going forward.
Price of Gold Prediction Factor No. 2: Climbing U.S. Dollar
We just spoke about the positive effect of a volatile U.S. dollar on gold prices. There has long been a belief that the price of gold has an inverse relationship to the dollar.
However, this isn't always the case...
Yes, a weaker dollar is great news for gold prices and gold stocks. But the market has proven in the past that the gold price can still rally in the face of a strengthening dollar.
Just look at the 1970s, for example. Interest rates sat above 5% for most of the decade and even hit a record high of 15.5% in 1979. Despite this, gold was 24 times more valuable by 1980 than it was in 1970.
If gold prices can weather high inflation and a high dollar once, they can certainly do it again.
Price of Gold Prediction Factor No. 3: Declining Short Positions
The third and final reason to be long on gold prices in 2017 is the falling volume of gold short bets.
A short bet is when an investor takes a position that profits on a stock or commodity's decline rather than its gain. If a stock has a lot of short positions, investors are expecting it to fall. That indicates overall bearish sentiment for that particular stock.
In the case of gold, the volume of shorts on gold stocks has been on the decline since November. For example, the latest data shows that Canadian gold miner NovaGold Resources Inc. (NYSE: NG) saw a 3.8% drop in short positions between November 2016 and December 2016.
Gold short-based indices have also been declining this year. The most prevalent is the Gold Bugs Short Index (HUISH), which is down 17.4% in 2017.
As these short positions have fallen, gold prices have gained 6.8% this year. And as we expect prices to rise another 13.5% to $1,400, we also expect gold mining stocks to rally.
Here is our recommendation for the best gold stock to buy now...
The Best Gold Stock to Buy Now Could Climb 60.7% in 12 Months