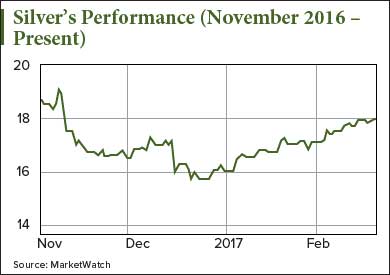 The big silver investment news today (Thursday, Feb. 16) is silver prices settled at their highest level in over three months. The metal added 0.6% to close the day at $18.07. That's the highest close for the silver price since it closed at $18.92 on Nov. 10, 2016.
And Money Morning Resource Specialist Peter Krauth says the silver price could gain another 32.8% by the end of the year. This rally will depend on the actions of the global silver market's most influential country.
First, here's why silver prices were up today…
This Silver Investment News Today Sent Prices to a 3-Month High
The biggest news story for silver investors today is the stock market snapping its five-day streak of record highs.
Since the closing bell on Wednesday, Feb. 8, the Dow Jones Industrial Average has roared higher. The index has closed at historic highs during every trading session, gaining 2.8% to 20,610.76 between Feb. 8 and Feb. 15. The S&P 500 has had an even longer streak, posting consecutive all-time highs since Feb. 7.
Editor's Note: 4 Reasons Why Silver Is About to Have a Historic Year
Soaring stock prices usually cause silver prices to fall. Since silver is often used as a safe haven against downturns in the market, investors have been more enticed to put their money in stocks instead of silver.
But today, both indexes are on track for their first daily loss in over a week. The Dow Jones is down 0.15% to 20,581.39, while the S&P 500 is down 0.24% to 2,343.50. This could've panicked investors into thinking the rally is finally over. That would push them to buy physical silver as a hedge.
Regardless of whether or not the stock market resumes its rally, we still see the price of silver rising in 2017. That's because one country's controversial new policy could boost silver prices globally.
Here's why this big silver player could push prices 32.8% higher this year…
This Country in Asia Could Rally Silver Prices in 2017