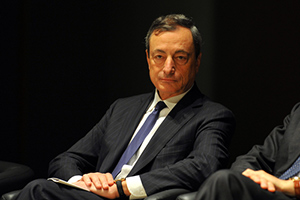 During a Feb. 6 hearing in the European Parliament, the head of the European Central Bank issued a dire warning about President Trump's latest moves to repeal Dodd-Frank's Wall Street reforms.
President Trump's actions are "exactly the ground on which the financial crisis developed," said ECB President Mario Draghi.
The regulations President Trump wants to deplete are aimed at keeping "too big to fail" banks from sparking a repeat of the 2007-2009 financial crisis.
"Frankly, I don't see any reason to relax the current regulatory stance which has produced a much, much stronger banking - and, generally, financial services - industry than we used to have before the crisis,'' said Draghi.
He added that more clarity was needed on what exactly President Trump plans to do pertaining to deregulation. On Friday, Trump directed the U.S. Treasury to look for potential changes in the law's provisions.
The European leader also responded to the scathing allegations set forth by Trump's head of the National Trade Council, Peter Navarro...