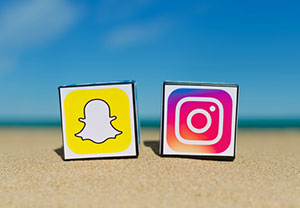 When is the Snapchat IPO date? Right now, Snapchat has not set an IPO date.
But because of its IPO filing on Feb. 2, 2017, the Snapchat IPO could happen as early as March. Snapchat made a filing with the SEC today (Feb. 16), and it plans to price shares between $14 and $16 per share.
And because the IPO is almost here, we want to make sure Money Morning readers know everything there is to know about Snapchat.
Let's start off with the most important detail: revenue.
Snapchat Revenue Projections Could Boost IPO Price
According to Snapchat's SEC filings, Snapchat generated $58.7 million in revenue for 2015.
In 2016, Snapchat generated $404.5 million in revenue. That's an increase of 589% in just one year.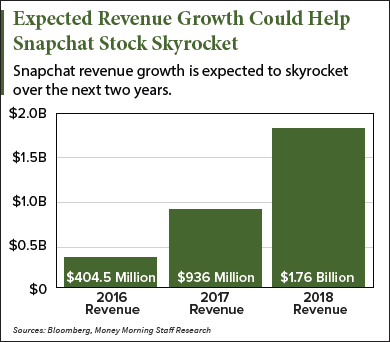 And revenue is expected to more than double this year…
For 2017, Bloomberg estimates Snapchat will generate $936 million in revenue.
By 2018, Snapchat is expected to generate nearly $2 billion in revenue.
But despite the massive revenue increases from 2015 to 2016, Snapchat is still not profitable…
Snapchat lost $514.5 million in 2016.
Snap Inc. also has massive cloud-computing costs. It will spend $2 billion on Google Cloud over the next five years.
That means Snapchat stock should be considered a long-term investment.
But some potential investors are already unhappy with how the Snapchat IPO is structured…
Snapchat Shareholders Will Not Have Voting Rights
In an unprecedented move, Snapchat has structured its IPO so that retail investors will not have voting rights.
The lack of voting rights means CEO Evan Spiegel wants to lead Snapchat with a "founder-led approach." It is designed to protect CEOs from being pressured by activist investors.
Facebook's 3-for-1 stock split was planned for similar reasons, so CEO Mark Zuckerberg can retain voting control of the company he founded.
But according to The Financial Times, some major pension funds in the United States aren't happy with the structure.
They want their clients to have voting rights.
Snapchat stock has upside, but there is risk in investing in any IPO.
That's why we asked Money Morning Director of Technology & Venture Capital Research Michael A. Robinson how to play the Snapchat IPO date…
How to Play Snapchat Stock Ahead of IPO Date