(Kitco News) – Global equity markets were mostly weaker overnight, on corrective pullbacks from recent gains that have many stock indexes at or near record or multi-year highs. U.S. stock indexes are pointed toward slightly lower openings when the New York day session begins, after posting record highs on Wednesday.
Gold prices are higher in early U.S. trading, amid a weaker U.S. dollar index today and a pause in the record-setting rally in the U.S. stock market that has pulled investor monies away from the safe-haven metal.
In overnight news, Federal Reserve Vice Chairman Stanley Fischer said the U.S. is heading for a 2% inflation rate. He said Fed policy is still accommodative and that U.S. interest rate increases should be gradual, according to news reports.
A feature in the marketplace this week has been rising world government bond yields, amid upbeat economic data coming from the U.S. and on a perceived more hawkish tone on monetary policy coming from Federal Reserve Chair Janet Yellen in her testimony to the U.S. Congress this week. Bond yields did pull back a bit on Thursday. Still, rising inflationary expectations worldwide are likely to see world government bond yields continue to tick higher in the coming months.
The key "outside markets" on Thursday morning find the U.S. dollar index trading lower on a downside correction from recent gains that saw prices hit a three-week high Wednesday. The greenback bulls still have the overall near-term technical advantage. Meantime, Nymex crude oil futures prices are firmer Thursday morning. Oil prices are back in a sideways trading range that has bound that market for weeks.
U.S. economic data due for release Thursday includes the weekly jobless claims report, the Philadelphia Fed business survey, and new residential construction.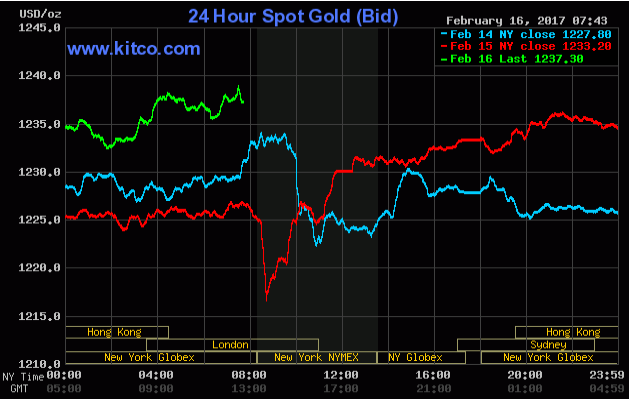 By Jim Wyckoff, contributing to Kitco News; jwyckoff@kitco.com
Follow Jim Wyckoff @jimwyckoff for breaking news.