We've compiled a list of the most heavily shorted stocks to show you which stocks have the most negative sentiment on the market…
| | | |
| --- | --- | --- |
| Company Name (Ticker) | Short Float | Share Price |
| Hanwha Q Cells Co. Ltd. (Nasdaq ADR: HQCL) | 98.52% | $ 8.88 |
| Renren Inc. (NYSE: RENN) | 91.59% | $ 8.53 |
| Weight Watchers International Inc. (NYSE: WTW) | 67.92% | $12.57 |
| INSYS Therapeutics Inc. (Nasdaq: INSY) | 66.71% | $10.74 |
| Twilio Inc. (NYSE: TWLO) | 66.34% | $33.17 |
| Nutanix Inc. (Nasdaq: NTNX) | 65.65% | $31.96 |
| Fitbit Inc. (NYSE: FIT) | 55.15% | $ 6.06 |
| Weibo Corp. (Nasdaq ADR: WB) | 53.83% | $55.26 |
| RPC Inc. (NYSE: RES) | 53.62% | $21.19 |
| Straight Path Communications Inc. (NYSEMKT: STRP) | 49.27% | $34.79 |
| Momo Inc. (Nasdaq ADR: MOMO) | 48.63% | $26.80 |
| Seritage Growth Properties (NYSE: SRG) | 46.91% | $44.87 |
| Lannett Company Inc. (NYSE: LCI) | 45.46% | $23.00 |
| Gogo Inc. (Nasdaq: GOGO) | 43.98% | $ 9.10 |
| Altisource Portfolio Solutions SA (Nasdaq: ASPS) | 42.78% | $22.73 |
| Cheetah Mobile Inc. (NYSE ADR: CMCM) | 40.86% | $10.00 |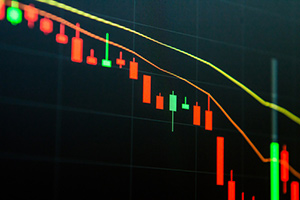 Some investors think the only way to profit from the stock market is to buy stocks and wait for the price to rise. However, these investors are missing out on the massive profit opportunity that comes from shorting stocks.
While this list shows the most shorted stocks now, they are not short bets that we recommend. They are what is currently being shorted.
Fortunately for Money Morning subscribers, we compiled a list of the top three stocks to short. Here are the picks, along with the big profit opportunity from each.
Follow Money Morning on Facebook and Twitter.