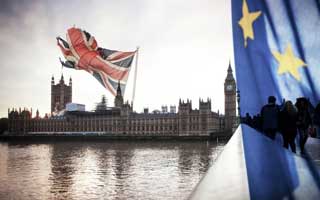 Former UK Prime Minister Tony Blair declared this morning (Friday) that Britons have the right to change their minds about the outcome of last summer's "Brexit" referendum.
On June 23, 2016, UK citizens voted in favor of their kingdom leaving the European Union (EU) by a narrow margin of just 52% ("leave") to 48% ("stay").
The historic vote gave way to Prime Minister Theresa May's election on July 11, 2016, by the ruling Conservative Party. May promised to quickly draft a replacement bill to repeal the European Communities Act 1972 (which resulted later in the development of the EU) and incorporate existing EU laws into new UK domestic laws.
But Blair's comments today spawned from the fact that the "stay" and "leave" tables have turned...
You see, a survey from the UK media outlet The Daily Mirror on Feb. 13 found 51% of Britons now want to "stay" in the EU and 49% now want to "leave."
Blair used these results to point-blank urge opponents of Brexit to "rise up" this morning and fight to change the British people's minds about leaving the bloc.
His speech was aimed to show PM May that "she won't get everything her own way," Bloomberg reported.
Blair's terse words were likewise met with criticism - particularly from former Tory leader Iain Duncan Smith, who said the comments were "arrogant and undemocratic," according to Bloomberg.
Regardless, Britons are feeling Brexit's fiscal impact more and more, so there may certainly be an element of regret...
Brexit Hits Britons in the Pocket
For example, retail sales in the UK unexpectedly dropped by 0.3% in January, compared to a 0.9% increase expected by analysts, CNN Money reported today.
Don't Miss: Here are the top retail stocks to short today...
That's just the beginning of the post-Brexit bad news, though...