Despite a recent peak just above $1,240 late last week, gold's held up well in its recent mini-consolidation.
What's impressive is that this relative strength has come despite some headwinds and some support for gold prices in 2017.
On Wednesday, the U.S. Labor Department reported the January Consumer Price Index (CPI) had risen 0.6%, or double economist forecasts.
That pegs annual inflation at 2.5%, which is the biggest year-over-year rise in nearly three four years.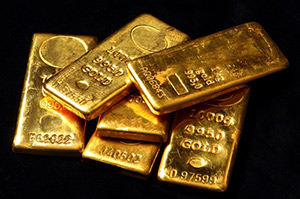 But let's not forget U.S. Federal Reserve Chair Janet Yellen's recent testimony to the House Financial Services Committee. That lit a fire under the dollar and simultaneously tanked gold prices… at least temporarily.
Interestingly, the effect was short-lived, and there are some likely reasons why, which I'll explore below.
Here's a look at how gold prices in 2017 have been trending and where I expect them to head from here.
How the Price of Gold Is Trending Now
The gold price ended last week on a surprisingly strong note.
It opened on a bit of weakness at $1,226, then quickly rose to peak at $1,234 at midday. From there gold settled back slightly to end the week at $1,233.
Don't Miss: For only the third time in 20 years, a metal more rare and more exotic than gold is about to make stock market history. And it's poised to make early investors a lot of money. Get the full story.
Monday saw gold prices open about $5 lower at $1,228 as the market started anticipating Yellen's testimony the next day. They quickly dropped to $1,222 at 10:00 a.m. Still, some restrained buying came into the market and managed to pull the price of gold back up to $1,225 by the close.
Tuesday began with Yellen warning of the risks of waiting too long to raise rates. That caused the dollar to pop and gold prices to sink. Here's how that looked on charts.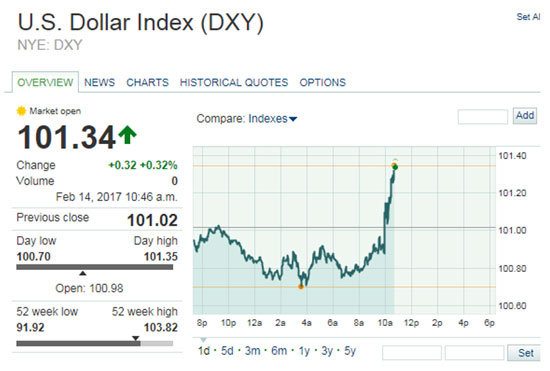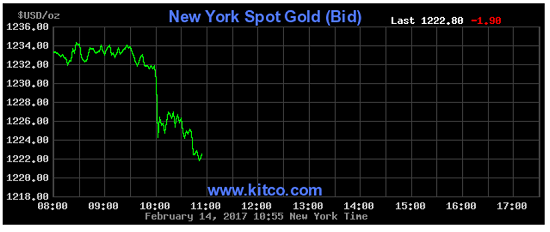 On Wednesday, the U.S. Dollar Index (DXY) continued to head higher as the market kept digesting Yellen's statements. In the process, the dollar rose to its highest level since mid-January on Yellen's talk of possibly raising rates at upcoming meetings and up to three times this year.
That's when the DXY hit near 101.75 and gold, which opened at $1,226 tanked to $1,219. But both almost immediately reversed directions. The DXY dropped back to 101 within hours, and gold popped then closed at $1,233.
On Thursday, gold opened higher at $1,238 after climbing in overnight trading. I think the market began doubting Yellen's ability to raise rates as much as she suggested. And that took the dollar lower and gold even higher to peak at $1,242 near 11:15 a.m., then closing still strong at $1,239.
Looking forward, here's what I expect for gold prices in 2017…
Where Gold Prices in 2017 Are Headed Next
Join the conversation. Click here to jump to comments…
About the Author
Peter Krauth is the Resource Specialist for Money Map Press and has contributed some of the most popular and highly regarded investing articles on Money Morning. Peter is headquartered in resource-rich Canada, but he travels around the world to dig up the very best profit opportunity, whether it's in gold, silver, oil, coal, or even potash.