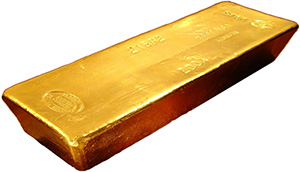 The best gold stock to buy this year will be the biggest beneficiary of the gold price rally. So far in 2017, the price of gold is up 6.8% to $1,233 — and we expect it to rise another 13.5% to $1,400 by the end of the year.
And we've just identified one of the best gold stocks to buy to profit from surging gold prices. This company is a gold miner, meaning its output and profits will rise alongside the price of gold. Best of all, analysts expect shares of this stock to rise 60.7% in the next year.
Before we get to our gold stock pick, here's why we're bullish on gold prices in 2017…
Why Gold Prices Will Rise 13.5% in 2017
According to Money Morning Resource Specialist Peter Krauth, two factors will drive the price of gold 13.5% higher this year…
The first is inflation. The annual inflation rate is already at a five-year high of 2.5%. It could keep rising if the stock market and 10-year Treasury note continue to soar.
You see, inflation is a side effect of a surging stock market. A rapidly gaining market hurts the purchasing power of the U.S. dollar, which is not good for the overall economy.
One purpose of the U.S. Federal Reserve is to keep inflation in check. It does this by managing interest rates. The Fed recently hiked rates on Dec. 14, 2016, to balance both the effect of the bull market and the economy on inflation.
Don't Miss: Your Free Guide to Making Money from Gold in 2017
Yields on the 10-year Treasury note have also been rising. Over the last three months, the yield has risen from 2.22% to its current level of 2.45%. Higher bond yields usually mean increased inflation. That shows in the 2.5% inflation rate – the highest since 2.9% in January 2012.
Gold is often a safe haven in times of uncertainty and turmoil. Since rising inflation can be a potential economic danger, investors will buy physical gold as a safe haven. That will increase demand and send the price of gold in 2017 higher.
The second bullish factor for the gold price in 2017 is the falling number of shorts on gold stocks. Traders take a short position when they think the price of a stock will decline. If it increases, the trader loses money. But if it falls, the trader earns money.
But the number of gold stock short bets has been falling since the start of the year. The Gold Bugs Short Index – which tracks short selling on several gold mining stocks – is down 18% in 2017. When investors and traders decrease their short positions, it shows that gold price sentiment is turning bullish. This makes sense considering the gold price is up 6.8% year to date (YTD).
Even more indicative of bullish sentiment is rising interest in gold mining ETFs. The world's top 10 gold and silver ETFs saw $1.6 billion worth of investment in January. Long-only ETFs – which track bullishness on the long-term gold price – alone attracted a massive $200 million. These huge inflows of money into gold funds shows that investors are confident in a gold rally this year.
Both of these factors point to a bull run for gold prices. Since most gold miners depend on high gold prices for profits, gold mining stocks are shaping up to be one of the best investments of 2017.
Here's the best gold mining stock to buy this year that could surge 60.7% within 12 months…
This Is the Best Gold Stock to Buy in 2017