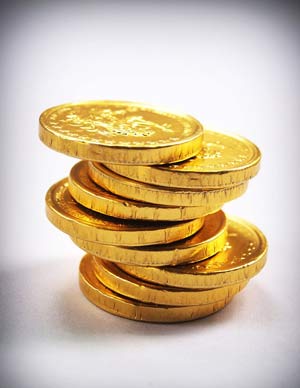 The big gold investment news of 2017 has been the strong rebound in gold prices following Q4 2016.
Since the beginning of the year, the price of gold is up 7.7% to $1,239. This is after a 12.8% decline last quarter, with the price bottoming out on Dec. 15 at $1,132.
And Money Morning Resource Specialist Peter Krauth predicts the gold price will soar to $1,400 per ounce by the end of 2017. That's up 13% from the current price.
While this is good news for owners of physical gold, it's even better news for owners of gold stocks. As prices rise 13% this year, gold mining companies will make more money on each ounce of gold they produce and sell.
Don't Miss: For only the third time in 20 years, a metal more rare and more exotic than gold is about to make stock market history. And it's poised to make early investors a lot of money. Get the full story.
That's why we're going to recommend two of the best gold mining stocks to buy in 2017. These two gold stocks could climb as much as 46.5% and 63.8% over the next 12 months.
Here's why our gold stock recommendations will rally in 2017…
2 Positive Pieces of Gold Investment News for 2017
There are several reasons why we're bullish on gold stocks and gold prices in 2017.
The first is the drop in short bets in the gold market. A short bet is when an investor "shorts" a stock or commodity, hoping it will drop in value rather than appreciate. The volume of short positions has been declining this year. That indicates sentiment across the gold market is turning bullish.
This shifting sentiment is clear from the Gold Bugs Short Index (HUISH). It tracks short-selling activity on gold mining companies, particularly ones that don't hedge production based on gold price conditions. So far in 2017, that index is down 15%.
The second piece of bullish gold investment news is the strength of the U.S. dollar.
Yes, gold prices and the dollar typically move in opposite directions. After all, the price of gold fell over 12% in Q4 2016 as the U.S. dollar rose 7.1%.
But this doesn't always hold true. History has shown that the price of gold can soar straight through times of a strong dollar. Just look 40 years into the past for proof…
In the 1970s, we had record-high interest rates that sent inflation soaring. Gold prices should have tanked during this time. Instead, they became 24 times more expensive at the end of the decade than they were at the beginning.
Even though the rate hike of 0.25% this past December strengthened the dollar, the effect will likely wear off. Regardless, gold prices are fundamentally poised for a long-term rally.
More Gold Investment News: 6 Catalysts Set to Trigger Seismic Gains
In fact, we're already in a gold bull market that could continue for the next five years…
Back in September, precious metal analyst Diego Parrilla told Bloomberg that we're closing in on the next booming gold bull market.
Gold bull markets produce average gains of 385% and last roughly 63 months. Even an average bull market could send gold mining stocks skyrocketing 600%, and a strong bull market could deliver gains in excess of 1,000% or more. All of this means there are plenty of profits to go around for investors looking to profit from gold mining stocks.
Here are the two best gold stocks to buy in 2017…
The 2 Best Gold Stocks to Buy for Gains of 46.5% and 63.8%