The Snapchat stock symbol is SNAP and will be listed on the New York Stock Exchange (NYSE).
On the Snapchat IPO date, the official listing will be Snap Inc. (NYSE: SNAP).
And because Snapchat is the most-talked about IPO on Wall Street right now, investors have been asking us if they should buy Snapchat stock.
Today, we are going to share with our readers what to do on the Snapchat IPO date.
But first, we want to make sure all of our readers know two of the most important facts Snapchat revealed in its IPO filing…
Snapchat's Revenue
One reason investors are so excited to invest in Snapchat is its rapidly growing revenue.
In 2015, Snapchat generated $58.7 million in revenue. By 2016, that number climbed to $404.5 million.
That's a year-over-year increase of 589%.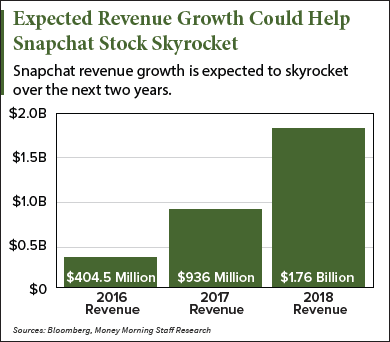 That type of increase won't be sustainable, but Bloomberg projects Snapchat's revenue will continue to climb in 2017 and 2018.
For 2017, Snapchat is projected to generate between $936 million and $1 billion.
By 2018, Snapchat is projected to generate $1.76 billion in revenue.
But despite the skyrocketing revenue totals, Snapchat is still losing money…
Snapchat lost $372.9 million in 2015 and $404.5 million in 2016.
And aside from the revenue losses, there's another issue investors need to know about before investing in Snapchat…
Snap Inc. (NYSE: SNAP) Shareholders Won't Have Voting Rights
Snap Inc. stock will have three common stock classes: Class A, Class B, and Class C.
But retail investors can only purchase Class A Snapchat shares, which will not have voting rights.
The lack of voting rights is part of a "founder-led approach" planned to insulate CEOs from actions brought by activist investors.
Facebook's 3-for-1 stock split was undertaken for similar reasons. It gives CEO Mark Zuckerberg voting control of the company he began.
However, pension funds are against the structure…
Trending Story: Top Marijuana Stocks to Watch This Week
According to the Financial Times, 12 of the largest U.S. pension funds sent Snap Inc. a letter in the beginning of February to object the non-voting rights.
These funds are worried that Snapchat could encourage other companies to similarly structure their IPOs.
The lack of profitability and non-voting rights are two of the biggest reasons Snapchat is a risky investment.
But if you understand the risks and still believe it's a good long-term investment, here's what to do on the Snapchat IPO date…
What to Do on the Snapchat IPO Date