On Feb. 23, 2015, President Obama declared, "Today, I'm calling on the Department of Labor (DOL) to update the rules and requirements that retirement advisors put the best interest of their clients above their own financial interests. It's a very simple principle: You want to give financial advice, you've got to put your client's interest first."
This change surprised retirees who didn't realize their advisors were not already following such a principle.
You see, biased advice from brokers drains $17 billion a year from retirement accounts, according to a 2015 report by the White House Council of Economic Advisers.
According to Money Morning Capital Wave Strategist Shah Gilani on Feb. 8, the fiduciary rule "is a great idea designed to protect consumers from slippery brokers selling them complex financial products they don't understand just to line their pockets with commission."
But the fiduciary rule won't go into effect anytime soon; in fact, it may not go into effect at all…
At the earliest, the former president's executive action is scheduled to go into effect on April 10. However, on Feb. 3, the Trump administration requested that the DOL review the rule further, with an eye to cost-benefit. Days later on Feb. 9, the DOL responded by submitting a request to the Office of Management and Budget (OMB) for 180 days to review the rule. That pushes implementation to at least July 2017. And after all the delays, there's still a chance the fiduciary rule could be completely nixed should the DOL determine the rule will cost Americans more than it benefits them. The agency can publish a proposed rule that rescinds the executive action altogether.
That's why it's important to closely examine your relationship with your retirement advisor right now, while the fiduciary rule remains in limbo.
By asking these three questions up front, retirees can avoid financial advisors who don't put their best interest first…
Question 1 for Your Retirement Advisor: Are You a Fiduciary?
By asking this, you ensure your retirement advisor is required by law to act in your best interest. If he or she is, you'll have a legal remedy in the unfortunate circumstance that one would be needed (i.e., you'd be able to sue your advisor).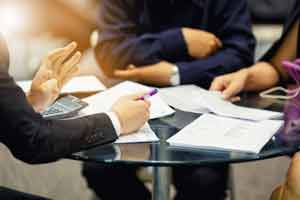 Additionally, to make sure the advisor is truly acting as your fiduciary, you can ask:
Are you willing to perform as a fiduciary with a duty to act in my best interest?
Are you willing to divulge any conflicts of interest that may interfere with your ability to act in my best interest?
And if they answer these questions with a yes, make sure they are willing to put this commitment in writing.
Question 2 for Your Retirement Advisor: How Are You Being Paid?