Despite climbing 19% in the last three months, analysts expect eBay stock to remain mostly flat through the rest of 2017. That doesn't mean the profit opportunity is over, though. In fact, a new income opportunity is just beginning as the stock price starts to go flat.
Before we get into how to profit from flat stocks, here's a look at the eBay stock outlook...
EBay Inc. (Nasdaq: EBAY) stock was volatile in 2016, but that volatility has ended. EBAY dropped 10% in October after announcing poor fiscal year 2016 earnings. Since then, eBay stock is up 19%, more than recovering from the initial losses.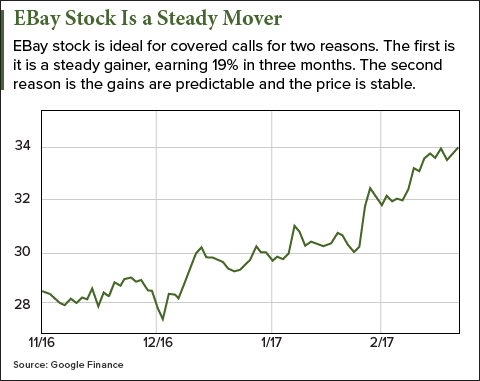 However, the large stock price gains are not expected to continue.
EBAY stock is currently trading at $33.70 a share. Analysts surveyed by Yahoo Finance have a one-year price target for the stock at $34.41. That's a gain of just 1.4% for the next 12 months.
Editor's Note: Timing is everything when it comes to making money in markets - and this new, free service we created puts timing on your side...
While the stock price gain may not be much to get excited about, the company has been posting consistent earnings per share (EPS) of about $0.45 for the past four quarters.
This type of stability lets you take advantage of a low-risk trade that gives you a monthly income...
Earning Monthly Income with eBay Stock