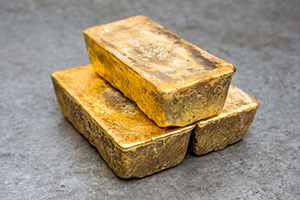 The best gold stocks to buy are set to outperform the stock market by a wide margin this year. And today, we're bringing you one of the best gold investments that could skyrocket 65.8% in 2017.
We're confident this stock will beat the broader market because gold prices are set to do the same in 2017. After all, the price of gold is up 8.2% to $1,249 so far this year. That beats the Dow Jones Industrial Average's 5.3% gain over the same period. And we expect gold to rise another 12.1% to $1,400 an ounce by the end of the year.
Here are two factors that will push the gold price to that mark in 2017...
2 Bullish Factors for Gold Prices in 2017
According to Money Morning Resource Specialist Peter Krauth, the first factor that will boost prices is the likely rise in inflation this year.
Unfortunately, inflation often goes hand in hand with a rising stock market. An advancing market also affects the U.S. dollar's purchasing power. Neither inflation nor a weaker dollar benefit the economy because they both reduce consumer spending.
Don't Miss: Your Free Guide to Gold and Silver Investing in 2017
A primary purpose of the U.S. Federal Reserve is to keep the inflation rate low. In fact, its rate hike last December was intended to keep any further inflation under control.
In addition, yields on the 10-year Treasury note have also been advancing. The 10-year yield currently hovers near 2.39%. That's a huge jump from 1.56% just six months ago. Rising yields often boost the inflation rate, which hit a nearly five-year high of 2.5% in January.
Rising inflation scares investors. Since inflation generally increases the prices of goods across the economy, it makes everything more expensive for consumers and dissuades them from spending money. That fundamentally hurts the economy and can lead to stock market volatility.
In times of investor fear and uncertainty, they buy safe-haven investments like gold. This use of gold as a hedge against a possible market downturn will increase the price of gold in 2017.
Krauth's second reason is that the volume of short bets on gold stocks will keep sinking.
When traders think that a share price will drop, they can place a short bet. That way, if it does decline, they make money on their bet. As a result, a rising number of short bets in the gold market means that many people think gold prices and gold stocks will perform poorly in the future.
Editor's Note: An incredibly rare gold anomaly is shaping up in the markets as we speak -- one that has occurred ONLY twice in the past 20 years. And it's about to happen again. Details here...
Sentiment toward gold stocks has been turning bullish as the number of short bets has declined recently. The Gold Bugs Short Index, which follows short selling on gold producers, is down 14.6% this year. That means traders are starting to think the gold market will become more valuable.
Both of these factors make us confident our gold stock recommendation will climb as much as 65.8% over the next 12 months.
Here's one of the best gold stocks to buy this year...
One of the Best Gold Stocks to Buy in 2017 for a 65.8% Return