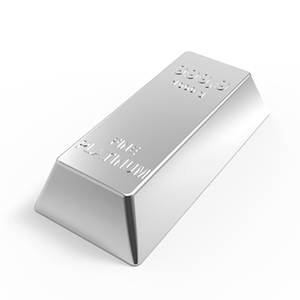 Platinum prices in 2017 have been volatile, trading as low as $914.40 per ounce and as high as $1,022.60 per ounce. That's an almost 12% swing in just two months.
The platinum price per ounce right now sits at $1,018.50. While that's down 13% from its high point of $1,180.90 on Aug. 10, 2016, it's up 13% from its low point of $894 on Dec. 26, 2016.
And we think that is just the start of the gains this year.
You see, one booming industry relies heavily on platinum to make its products.
We'll talk more about that industry in just a bit.
But first, we want to make sure Money Morning readers know two other major factors that will move platinum prices in 2017…
3 Factors That Will Move Platinum Prices in 2017
According to Money Morning Resource Specialist Peter Krauth, 35% of platinum use is in jewelry.
Well-known jewelry stores like Jared carry platinum wedding bands, while Zales carries diamond solitaire pendants in platinum that cost upwards of $14,000.
And because platinum prices can rise and fall based on industrial demand, Krauth says prices can be at the mercy of the jewelry market.
So if gold or silver becomes more popular for jewelry makers, the demand and prices for platinum can fall.
Editor's Note: For only the third time in 20 years, a metal more rare and more exotic than gold is about to make stock market history. And it's poised to make early investors a lot of money. Get the full story.
The other reason platinum prices can fall is the strength of the U.S. dollar.
Because platinum is priced in U.S. dollars, a stronger U.S. dollar means it's more expensive for foreign investors to purchase platinum. And when the U.S. dollar is weaker, it's less expensive to purchase platinum.
But there's also a third reason why platinum prices can climb or fall…
In fact, 43% of consumed platinum is used in this one industry, which is the largest industrial use of the precious metal.
And because of sales in this industry, here's why platinum prices could start climbing even higher…
The Biggest Reason Platinum Prices Could Climb in 2017