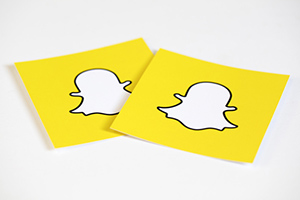 The Snapchat stock price will be set between $14 and $16 per share, but there still isn't a set Snapchat IPO date.
So before the IPO, we wanted to make sure Money Morning readers know everything there is to know about Snapchat.
Here is what you need to know about Snapchat, its latest IPO filing, and whether Snapchat stock is worth buying.
What Is Snapchat?
Snap Inc., the parent company of Snapchat, calls itself a "camera company."
But most users view it as a social media site.
Snapchat is an app that allows users to send videos or pictures to friends. The app allows users to edit their messages with drawings, doodles, animations, and filters.
These messages can be viewed for up to 10 seconds and then will disappear.
Trending: Top 10 2017 IPOs to Watch
Users can also add their posts to a "Stories" section, where friends and followers can view the content repeatedly for up to 24 hours. Snapchat also created a "Memories" section in July 2016, which allows users to store snaps to either share or view later.
Because of its popular features, Snapchat has roughly 160 million daily active users (DAUs).
And because of its growing user base, Snapchat is generating millions of dollars in advertising revenue…
Snapchat's Revenue Is Soaring Ahead of IPO
In 2015, Snapchat generated $58 million in revenue. For 2016, Snapchat generated $404.5 million.
That's a year-over-year increase of 597.41%.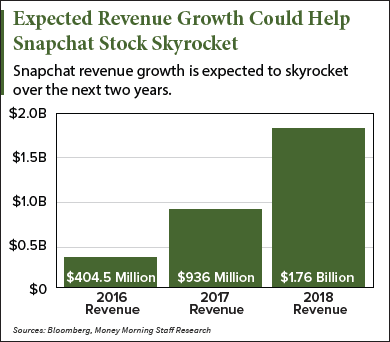 For 2017, Snapchat is projected to generate between $936 million and $1 billion in revenue.
By 2018, Snapchat is projected to generate between $1.76 billion and $2 billion.
However, Snapchat is not yet profitable…
In 2015, Snapchat lost $327.8 million. In 2016, Snapchat lost over $514.6 million.
That's a 56% increase in losses in just one year.
So you shouldn't buy SNAP stock just because it's increasing its revenue.
Here's more on why Snapchat should be considered a speculative investment at best…
The Snapchat Stock Price Could Be Extremely Volatile