Shares of SpaceX stock should be expensive once the SpaceX IPO hits the market. Although CEO Elon Musk hasn't given a timeline on when SpaceX will start trading, it's sure to be one of the biggest IPOs of the decade.
That's because SpaceX is one of the world's most unique companies. Although it's categorized as a traditional aerospace company like Boeing Co. (NYSE: BA) or Lockheed Martin Corp. (NYSE: LMT), SpaceX focuses on long-term goals over short-term profits. In fact, its biggest plan is to eventually colonize Mars.
But its ambitious vision is just one of many reasons why the SpaceX IPO will be one of the most hyped-up deals of the decade. As with most highly publicized IPOs, SpaceX stock could skyrocket on its first day of trading. That means institutional investors could see a massive first-day return.
Here are three more reasons why the SpaceX IPO will be a huge stock market event…
3 Reasons Shares of SpaceX Stock Will Make Big Money for First-Day Investors
Reason No. 1: Rising Funding and Valuation
SpaceX is currently valued at $12 billion. That makes it the 11th highest-valued private company on the planet. It ranks one spot behind Flipkart's $15 billion valuation and one spot ahead of Pinterest's $11 billion valuation.
This chart here shows the top 15 highest-valued startups in the world…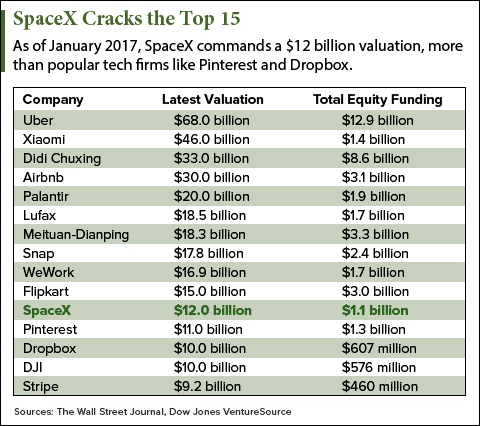 Over its seven rounds of funding since 2006, SpaceX has received $1.1 billion from venture capitalists and private investors. SpaceX's total amount of funding isn't much compared to companies with similar valuations. However, the company's funding growth has been stunning.
For example, Flipkart's valuation is $3 billion higher than SpaceX's valuation. But Flipkart's funding climbed only 140% from $150 million to $360 million between the Series D and Series E rounds.
Want to Make Money? Here's how to make over $100,000 starting with a small amount of money… rolling stocks over and over again. Click here for this proven investing method…
Meanwhile, SpaceX saw explosive funding growth between Series D and Series E. It increased by 3,233% from $30 million to $1 billion.
The massive valuation and incredible funding growth ensure shares of SpaceX stock will be priced high when they hit the market.
Reason No. 2: Increasing Launch Frequency
On Feb. 6, SpaceX Chief Operating Officer and President Gwynne Shotwell said the firm hopes to increase the number of Falcon 9 launches to every two to three weeks. The company has only launched up to nine Falcon 9 rockets a year since 2015. That means this will be its fastest rate of Falcon 9 launches since they began seven years ago.
The company's new launch pad at Kennedy Space Center in Florida just became operational. Last Sunday, Feb. 19, SpaceX successfully launched its first Falcon 9 resupply mission from the historic NASA base and landed it on the International Space Station (ISS).
This recent news comes at a perfect time for SpaceX because of our third reason…
Reason No. 3: Growing Backlog of Supply Orders
Now that its Kennedy Space Center launch pad is up and running, SpaceX will be able to alleviate some of its heavy backlog.
A backlog is SpaceX's list of paid supply orders that the company is waiting to complete. The supplies being shipped include probes, satellites, and various other tools. And the company reportedly has upwards of 70 rockets ready to send supplies to the ISS and other customers.
These orders will be bring in massive profits for SpaceX. According to the company's website, SpaceX charges $62 million to customers for each Falcon 9 supply launch. If you multiply that by the 70 reported shipments ready to go, the company earns $4.34 billion. That's 67% more than SpaceX earned from its $2.6 billion contract with NASA back in 2014.
With a growing valuation, rising launch frequency, and surging profits from its backlog, investors everywhere want to know when the SpaceX IPO date will happen…
Will Shares of SpaceX Stock Hit the Market in 2017?