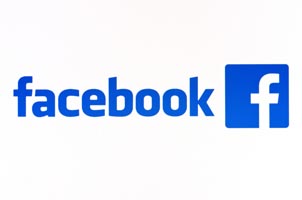 The Facebook stock split still does not have an official date, and since we haven't received an update from the company since the Facebook stock split vote, it may be pushed back to 2018.
Facebook Inc. (Nasdaq: FB) didn't announce any FB stock split news in its Q4 2016 earnings report, further indicating it may not happen in 2017.
But if you are a FB shareholder, it's important to know that a Facebook stock split has been approved and will happen. It's just a matter of when.
Here's why Facebook will be splitting its stock...
The 3-for-1 Facebook Stock Split
Facebook shareholders approved a 3-for-1 stock split on June 20, 2016.
What this means is for every Class A Facebook share, shareholders will receive three shares of the newly created Class C share. Right now, Class A shares have one vote per share.
But when shareholders receive Class C shares, they will not have any voting power.
Some investors don't like this, as they feel nonvoting shares won't allow them rights to voice their concerns.
However, CEO Mark Zuckerberg owned roughly 60% of the voting power before the split was approved. That means no matter how shareholders voted, Zuckerberg would always have the final say. Essentially, nothing is changing from a voting standpoint.
Must Read: Snapchat Stock Guide Before the Snap IPO
So for FB shareholders now, the most important issue to focus on is what will happen on the Facebook stock split date.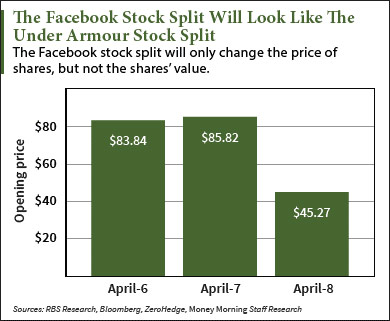 That's because it may appear shares were cut by a third overnight. But in reality, the value of FB shares will remain the same.
For example, Under Armour Inc. (NYSE: UA) underwent a 2-for-1 stock split on April 8, 2016. On April 7, 2016, the UA stock price opened at $85.82 per share.
But on the April 8 stock split date, the UA stock price opened at $45.27 per share.
The value of UA stock was the same, it was just the price that had changed.
And on the FB stock split date, it will look similar to Under Armour's split, except it's a 3-for-1 split.
But you don't want to wait to buy FB stock just because it "appears" cheaper.
Here's why...
Our Bold Facebook Price Prediction Ahead of the Facebook Stock Split